Weight Loss Tips
Sesame Thai Chicken Dip {Most Amazing Dip On the Whole Planet Earth} | Mel's Kitchen Cafe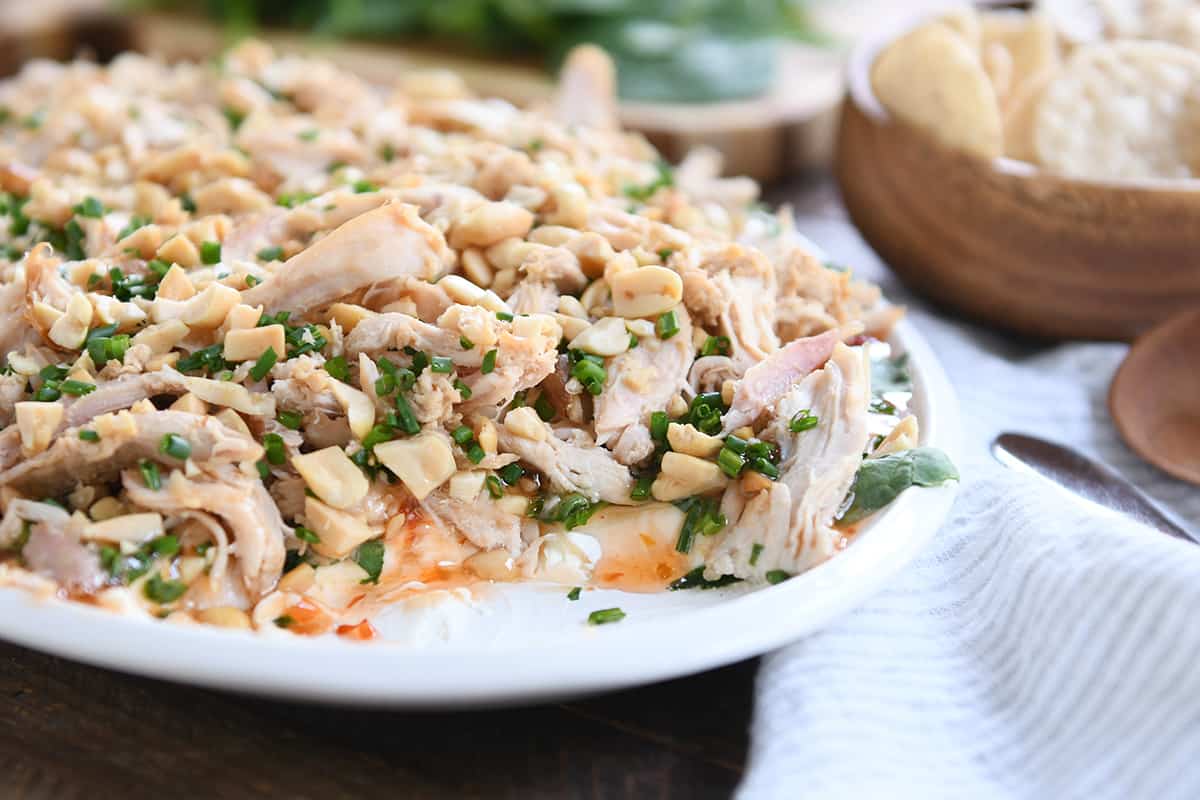 Get ready for the most delicious dip on the planet. This sesame Thai chicken dip is packed with so many light and delicious flavors and is crazy easy to make! Soooo good!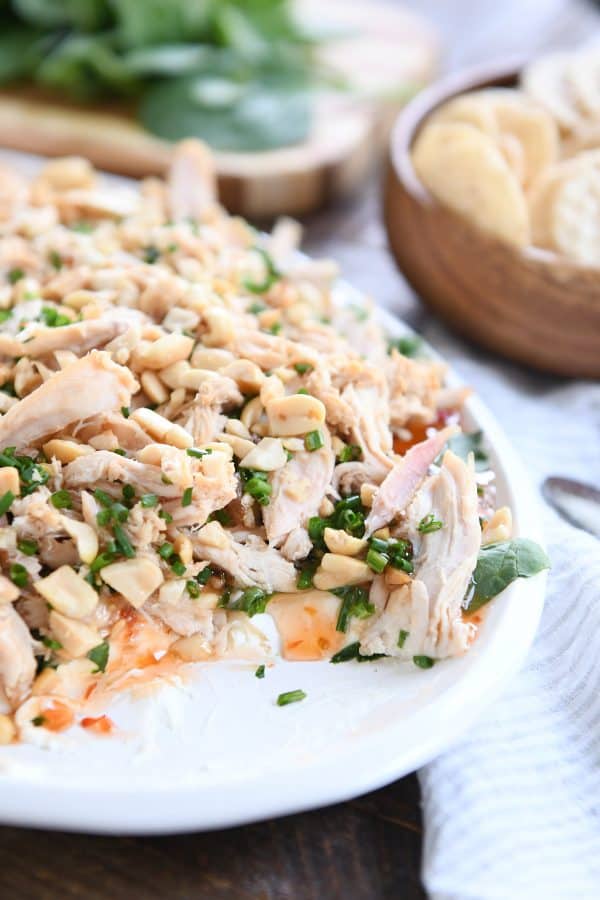 If you are like me and you absolutely, wholeheartedly seek after everything sweet Thai chili sauce, you're going to go bananas over this dip.
The Asian/Thai/fusiony flavors in this dip are totally my jam; I could eat stuff like this day in and day out for the rest of forever.
However, I have also served this dip to boring palates (sorry, I won't call anyone out by name) and skeptics (again, I'll help keep you anonymous), and everyone (except one stubborn soul who has been cut out of my life forever*) went crazy over it. Like, fighting over the leftovers kind of crazy.
*just kidding, kind of
This sesame Thai chicken dip is going to singlehandedly get me through September, I can feel it.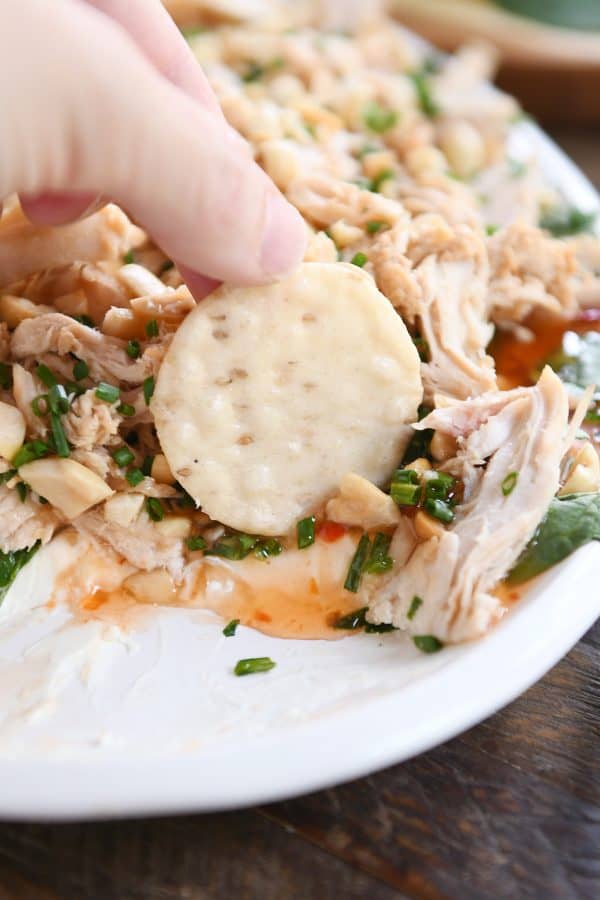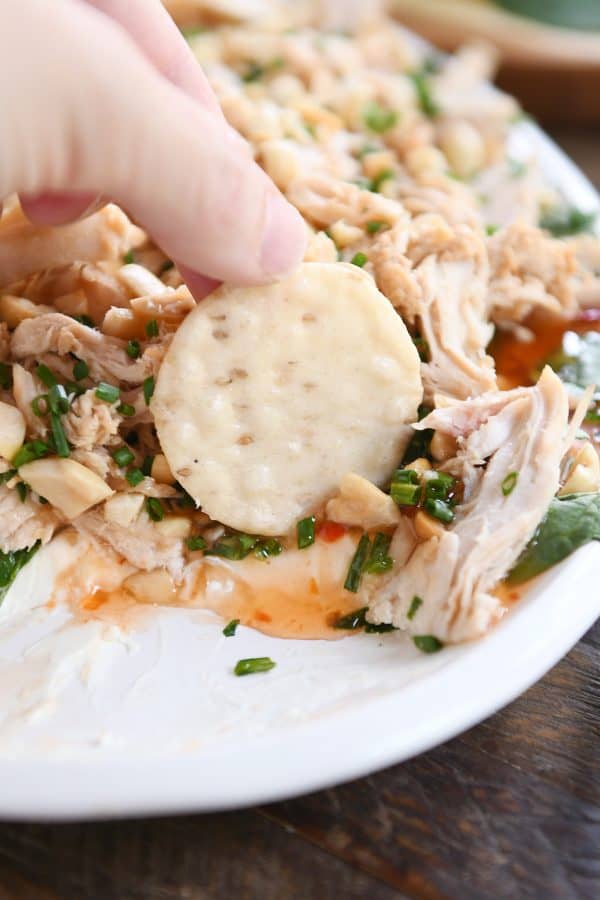 Easy as can be
The beauty of this simple chicken dip is that it is just that: simple.
After tossing the chicken (a rotisserie chicken works great here!) with a little flavor boost:
soy sauce
sesame oil
garlic
You basically layer everything on a platter.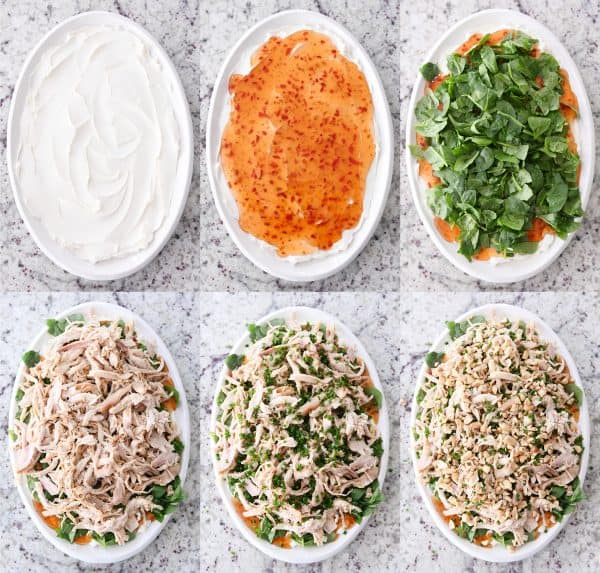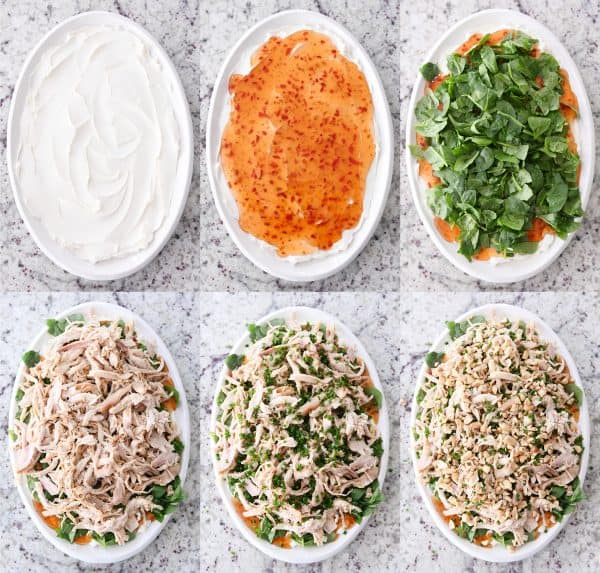 A few notes so no one yells at me
How I got the recipe: an amazing MKC reader, Luci, sent me this recipe, waxing poetic about its virtues. She had a hunch I'd love the flavors, and wow, was she ever right.
Spinach issues: Luci tipped me off that the spinach should be very finely chopped (she was introduced to the dip at a book group, and she actually thought the "green stuff" was cilantro); I somehow missed that memo and definitely went for more of a coarse chop on the spinach. And added a lot of it. You can really follow your soul on this one. The recipe calls for 1-2 cups fresh spinach. You can add more or less and chop it coarse or fine, depending on the spinach vibe you want.
Sweet Thai chili sauce: this amazing nectar is integral to the recipe. I haven't tried a homemade sweet chili sauce recipe, but there are loads of options if you google. I tend to stick with the Mae Ploy or Thai's Kitchen brands.
Authentic…or not: please note that I am not trying to pass this dip off as any kind of authentic Thai food. I am not a Thai food expert. I just like to drink sweet Thai chili sauce and would put it on everything if I could. Basically, if you have an issue with this recipe claiming to be Thai food, gently remind yourself no one claimed that, and then try not to yell at me in the comments, especially in all caps. I just work here. 🙂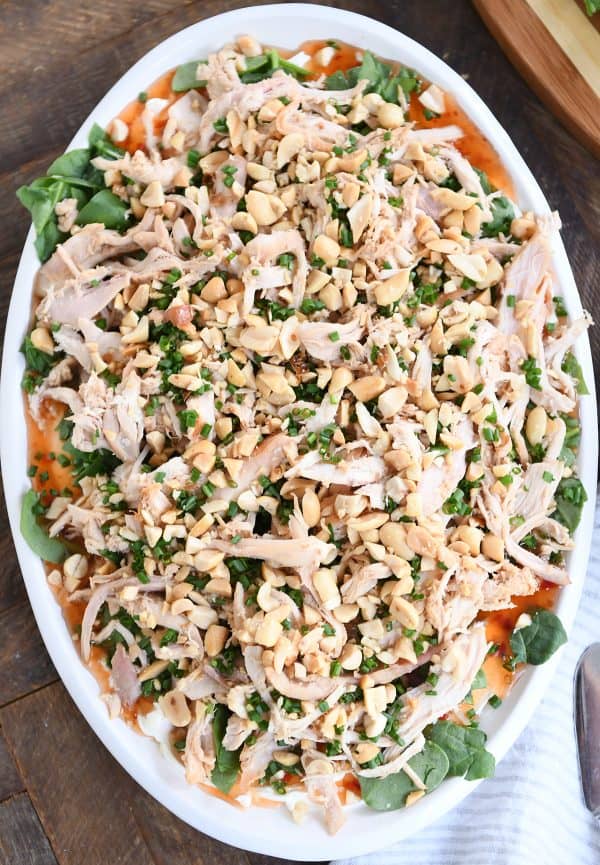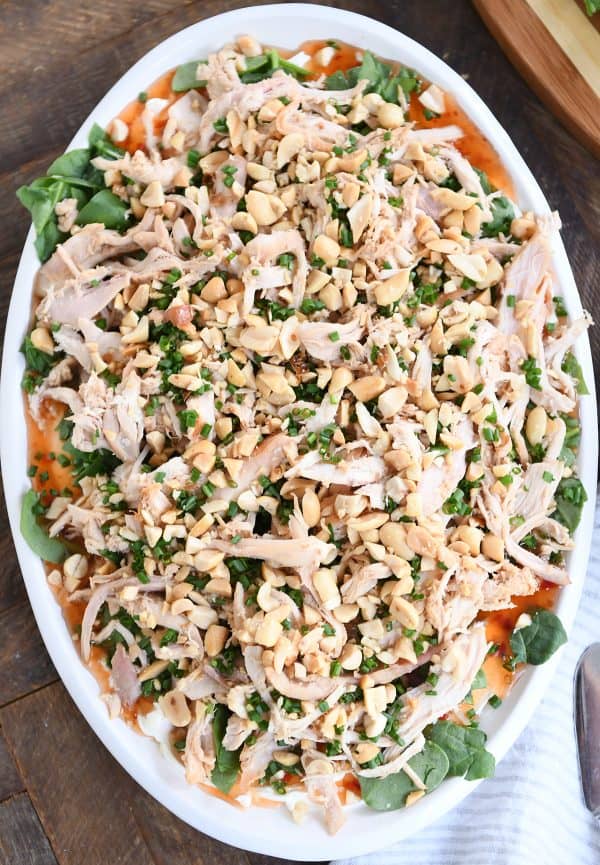 Just Eyeball It
A wonderful virtue of this recipe is that for almost every aspect, you can just eyeball the amounts you want to use.
A lot will depend on the size of your platter or plate, your taste buds, how cream cheese heavy-or-light you want it, and a multitude of other preferences.
I've given some amounts in the recipe below, but you should really think of them as just recommendations. You really can't mess it up.
You'll want about a 10- to 12-inch platter. I have this oval platter aff. link, and it fits the recipe pretty much perfectly.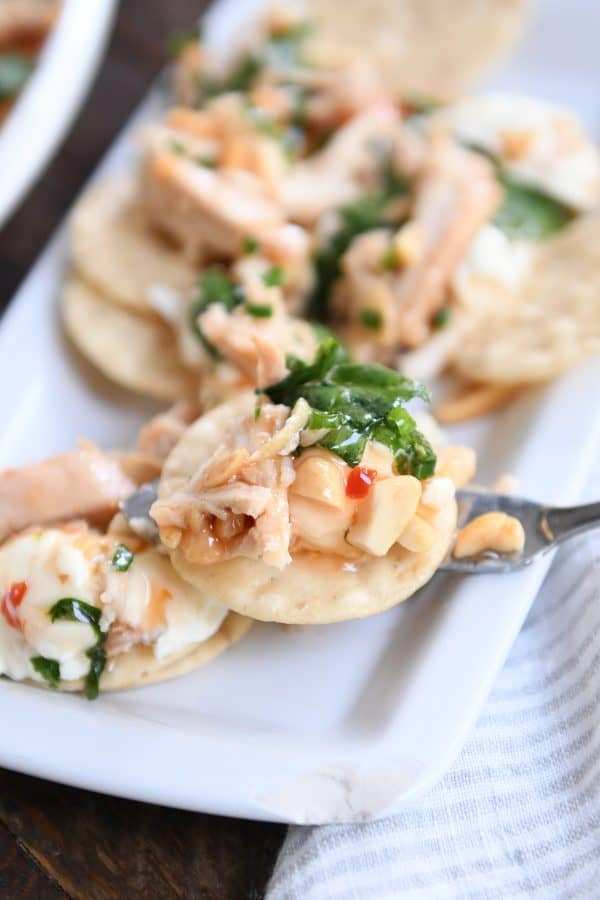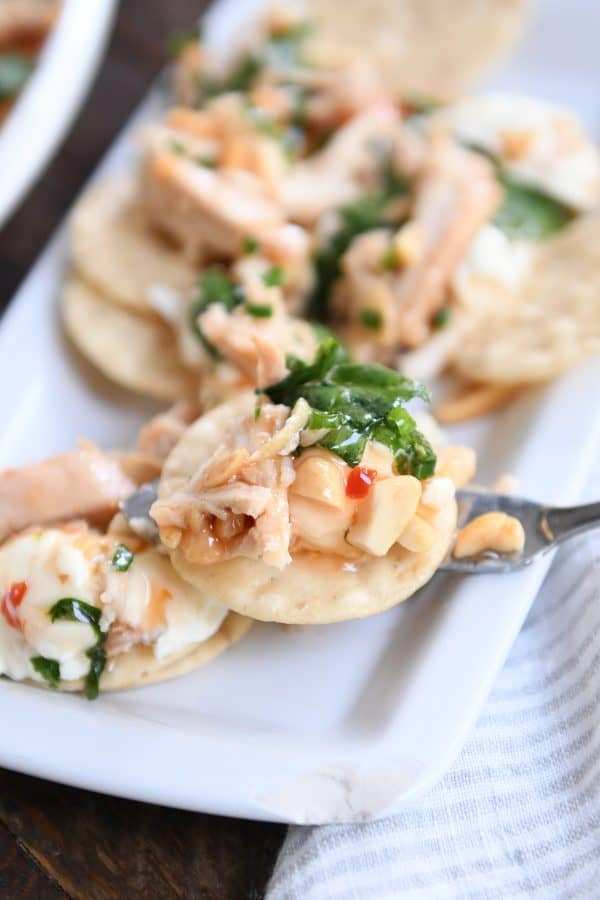 I get excited about every single recipe I post. In the land of Mel Posts Less and Less, you better believe that when I do manage to get a post up amid the craziness that is life right now, it's going to be the best of the best of the best.
I don't have time for filler recipes published only to appease the google and SEO gods. And I know you don't either.
This sesame Thai chicken dip shatters the best of the best category and goes straight to the list of best things I've ever eaten. I hope you love it as much as I do!
And if you happen to invite me to a party in the next decade, chances are I'll play dead, but if I do by some miracle emerge from my cozy, introverted, homebody shell to put on pants and come, I'll 100% be bringing this dip.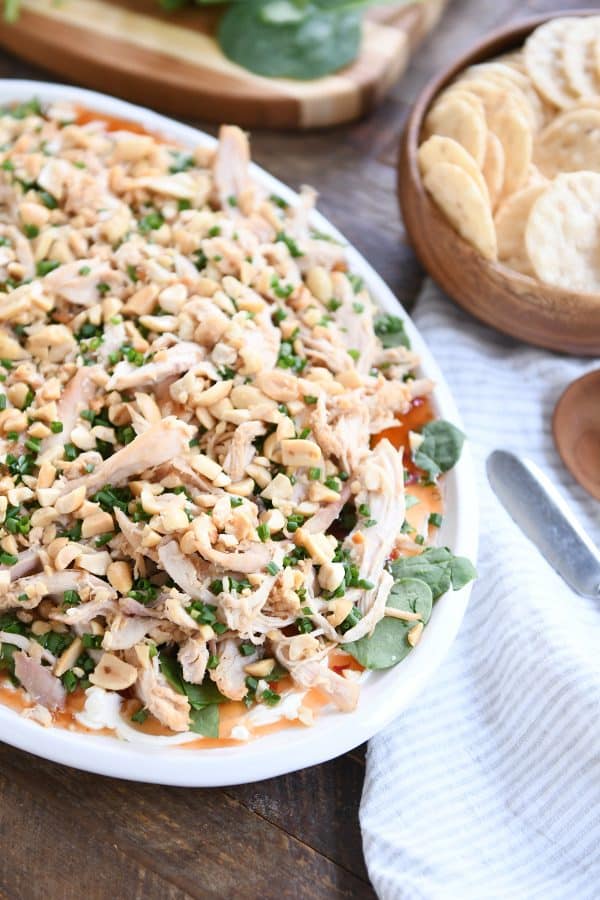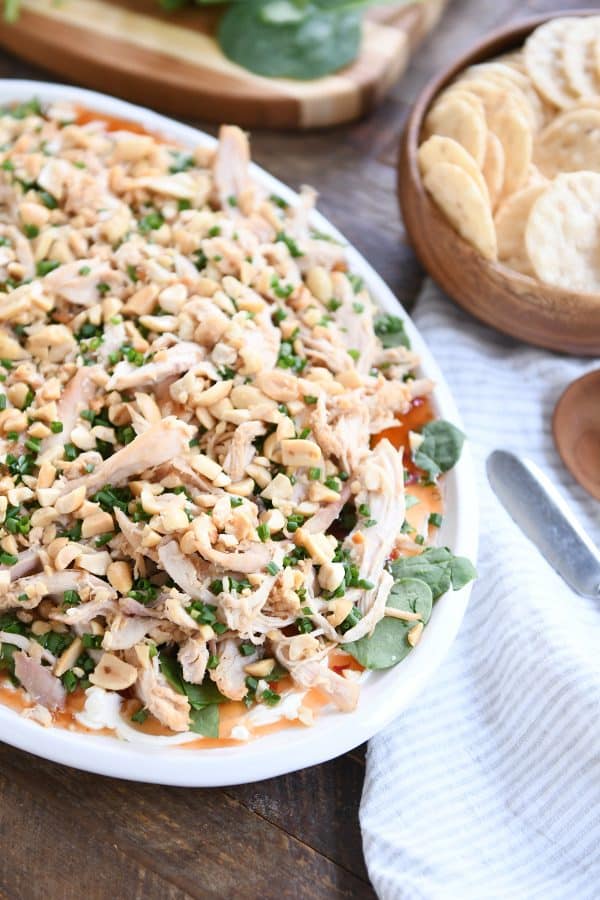 One Year Ago: Easy Sheet Pan Chicken Fajitas
Two Years Ago: Grilled Chicken and Vegetable Orzo Salad with Honey Lime Dressing 
Three Years Ago: Double Chocolate Zucchini Brownies
Four Years Ago: Tri-Color Pasta Salad My Favorite Pasta Salad 
Five Years Ago: Amish-Style Apple and Cinnamon Baked Oatmeal 
Six Years Ago: Thai-Style Fish and Creamy Couscous Packets Make-Ahead Meal 
Seven Years Ago: Big Fat Greek Tacos 
Eight Years Ago: Healthy Banana Blueberry Muffins
Yield: 15-20 servings
Prep Time: 30 minutes
Additional Time: 2 hours
Total Time: 2 hours 30 minutes
Ingredients
1 1/2 tablespoons soy sauce (I use low-sodium)
1 tablespoon sesame oil, toasted or regular
2 cloves garlic, finely minced
2 to 3 cups cooked, shredded chicken (rotisserie chicken works great)
16 ounces cream cheese, softened to room temperature
1 cup (8 ounces) sweet Thai chili sauce
1 to 2 cups finely chopped fresh spinach (see note)
1/2 cup finely chopped chives or green onions
1/2 cup chopped peanuts or toasted sesame seeds
Sesame rice crackers, for serving
Instructions
Whisk together the soy sauce, sesame oil and garlic. Toss with the shredded chicken. Set aside.
Spread cream cheese evenly on 10- to 12-inch serving plate or platter. Top with sweet Thai chili sauce, spinach, chicken, chives or green onions, and peanuts or sesame seeds.
Serve right away or refrigerate 2-4 hours (any longer and the peanuts can soften and the spinach can get a bit wilty). Serve with rice crackers.
Notes
Spinach: I kind of load up the spinach on this dip because I really love fresh spinach, but you can add just a smattering (like a sprinkling of chopped cilantro). Speaking of cilantro, I'm guessing you could sub out the spinach and use fresh, chopped cilantro (or add both).
Sweet Thai Chili Sauce: I almost always buy the Mae Ploy or Thai's kitchen brands of sweet Thai chili sauce. I haven't made my own, but there are a lot of homemade recipes if you do a quick google search.
Leftovers: the leftovers of this dip are really good. Keep in mind the spinach and peanuts will soften if/when refrigerated for longer than a couple of hours.
Recommended Products
As an Amazon Associate and member of other affiliate programs, I earn from qualifying purchases.
Recipe Source: sent to me by a reader, Luci H (thank you, Luci!) – looks like it's originally from Taste of Home (I adapted amounts and some of the ingredients)
Disclaimer: I am a participant in the Amazon Services LLC Associates Program, an affiliate advertising program designed to provide a means for me to earn fees by linking to Amazon.com and affiliated sites. As an Amazon Associate I earn from qualifying purchases.