Get all the latest news on coronavirus and more delivered daily to your inbox. Sign up here.
A new study notes that prescriptions for hydroxychloroquine surged nearly 2,000 percent the week in March that President Trump first touted it as a potential treatment for COVID-19.
The research, published in the Journal of the American Medical Association, notes that during the week of March 15 to March 21, there were 45,858 prescriptions filled for less than 28 tablets of hydroxychloroquine and chloroquine, an increase of 1,977 percent compared to 2019.
"The growth observed in the week of March 15 to March 21 followed the World Health Organization declaring a global pandemic on March 11, the United States declaring a national emergency on March 13, a single-group nonrandomized study published on March 17, and President Trump's support of the drug on March 19," the researchers wrote in the study.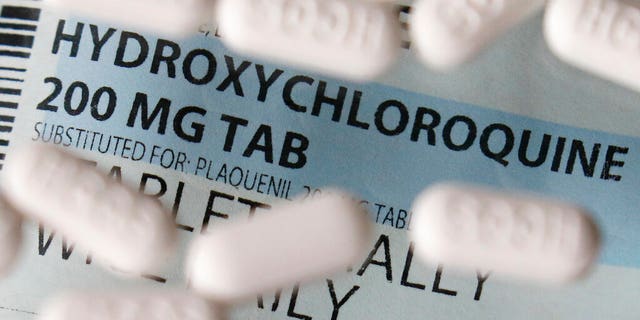 FILE – This Monday, April 6, 2020 file photo shows an arrangement of hydroxychloroquine tablets in Las Vegas.
((AP Photo/John Locher))
CORONAVIRUS PANDEMIC COULD BE BEATEN WITH ROLLING 50-DAY ON, 30-DAY OFF LOCKDOWN PLAN: STUDY
There was also a rise in prescriptions of hydroxychloroquine for 28-60 days and 61-plus days, with the numbers rising 179 percent and 182 percent, respectively.
The researchers noted the "surge" in short-term prescriptions coincided with a reduction in longer-term prescriptions for the anti-malarial drugs, which are also used to treat lupus and rheumatoid arthritis at the end of the study.
"At study end, these increases remained sustained for fewer than 28 tablet fills ( 848.4 [percent]) and 28 to 60 tablet fills ( 53.3 [percent]), while more than 60 tablet fills of hydroxychloroquine/chloroquine were below 2019 estimates (−64.0 [percent] decrease)," the researchers added.
In total, the researchers found that 483,425 excess prescriptions of hydroxychloroquine and chloroquine were filled between Feb. 16 and April 25.
The experts, who come from a number of different organizations, including Brigham and Women's Hospital in Boston and GoodRx, used pharmacy data from 58,332 pharmacies across all 50 states and more than 14,000 zip codes, to come up with their findings.
Rick Bates, founder and CEO of prescription savings service SingleCare, said the service has seen a similar spike in demand for hydroxychloroquine fills, both in March and when Trump mentioned earlier this month that he was taking hydroxychloroquine.
"There's clearly a tie between the president's opinion on COVID treatments and consumer demand for certain medications," Bates told Fox News via email. "It's an unprecedented time where news and studies about effective treatments for COVID are changing daily, so, Americans are searching for facts and are eager for information, whether it's from scientific studies, physicians or the White House."
In March, President Trump said, "I feel good about it [hydroxycholoroquine]," adding it was "just a feeling," despite no evidence at the time the anti-malarial drug was effective in being used to treat the novel coronavirus.
The spike in hydroxychloroquine prescriptions indicates both the general population's search for a cure for the pandemic and the reach of the president's words.
"President Trump pushed hard – for a long time – for hydroxychloroquine as a therapeutic for COVID – even while the science behind the drug's use was unproven," Benjamin Corb, Director of Public Affairs for American Society for Biochemistry and Molecular Biology, said in an email to Fox News. "Medical experts talked openly about the unproven claims, and recently we've seen the science prove that this drug just isn't a viable therapeutic."
In mid-May, Trump said he was taking hydroxychloroquine, which he has previously referred to as a "game-changer," to prevent coronavirus symptoms. On Monday, however, Trump revealed that he was finished taking hydroxychloroquine.
No drug should be taken without a doctor's prescription.
Earlier this week, World Health Organization director-general Tedros Adhanom Ghebreyesus said the organization would temporarily halt global trials of hydroxychloroquine and chloroquine after a study showed that hospitalized coronavirus patients taking the drugs have a higher mortality rate.
AS CORONAVIRUS PANDEMIC CONTINUES, NOVAVAX STARTS CLINICAL TRIAL OF POTENTIAL VACCINE IN AUSTRALIA
A May 22 study published in The Lancet said that COVID-19 patients were more likely to have heart issues, including serious heart arrhythmias, if they were treated with hydroxychloroquine.
A study in Brazil testing chloroquine in COVID-19 patients had to be stopped in April after people who took high doses of the drug developed dangerous heart rhythm problems.
Separately in April, a study of 150 COVID-19 patients in China who received the drug showed it did not clear the patients of the virus, but it did alleviate some symptoms.
In late April, the U.S. Food and Drug Administration warned against the use of the two antimalarial drugs following reports of "serious heart rhythm problems" in COVID-19 patients treated with the medications.
"The FDA is aware of reports of serious heart rhythm problems in patients with COVID-19 treated with hydroxychloroquine or chloroquine, often in combination with azithromycin," the agency said on its website. "We are also aware of increased use of these medicines through outpatient prescriptions. Therefore, we would like to remind health care professionals and patients of the known risks associated with both hydroxychloroquine and chloroquine."
"I appreciate why the President [Trump] would want to give hope to American's suffering during the pandemic – but the help should be supported by evidence – and the evidence just wasn't there to support this push," Corb added. "It is unfortunate that citizens took unproven, unverified medical advice from political leaders, who seemingly ignored the advice of experts."
In recent days, government-run VA hospitals have "ratcheted down" prescriptions for hydroxychloroquine as a treatment for veterans with coronavirus. At a House hearing on Thursday, Veterans Affairs Secretary Robert Wilkie noted the number of studies linking the unproven drug to an increased risk of death and heart arrhythmia.
Currently, there is no known scientific cure for the disease known as COVID-19, however, a number of drugs are being tested to see if they can treat it.
CLICK HERE FOR COMPLETE CORONAVIRUS COVERAGE
As of Friday afternoon, more than 5.86 million coronavirus cases have been diagnosed worldwide, more than 1.72 million of which are in the U.S., the most impacted country.
GET THE FOX NEWS APP
Fox News' Andrew O'Reilly, Stephen Sorace and Kayla Rivas contributed to this story.