[ad_1]
These easy crispy shrimp tacos are amazing! Like, seriously one of the best things I've ever eaten. Baked, not fried, they are crispy-crunchy and crazy good.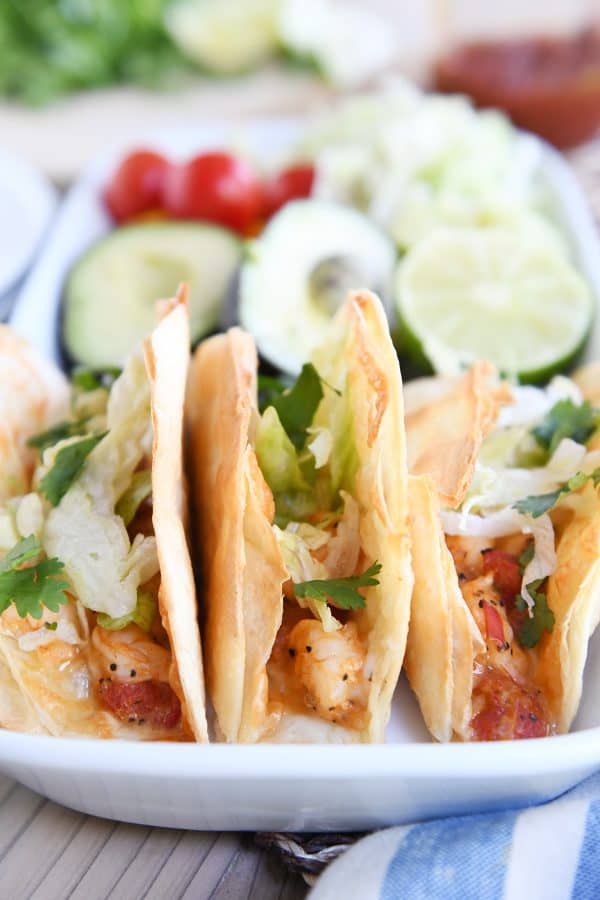 I posted a picture of these crispy shrimp tacos a few months ago on Instagram. You went crazy. (Meanwhile, I was already going crazy at home; they are next level delicious.)
I've never had that many requests for a recipe! Shrimp lovers unite. Taco lovers, get on over here.
After making them a couple more times, I figured they needed a decisive spot here on the blog. I don't know about anyone else, but I will be making these shrimp tacos regularly for the rest of forever.
They are crazy good! And surprisingly really easy (baked, not fried!). They have easily solidified a spot on the "Top Recipes of All Time" list.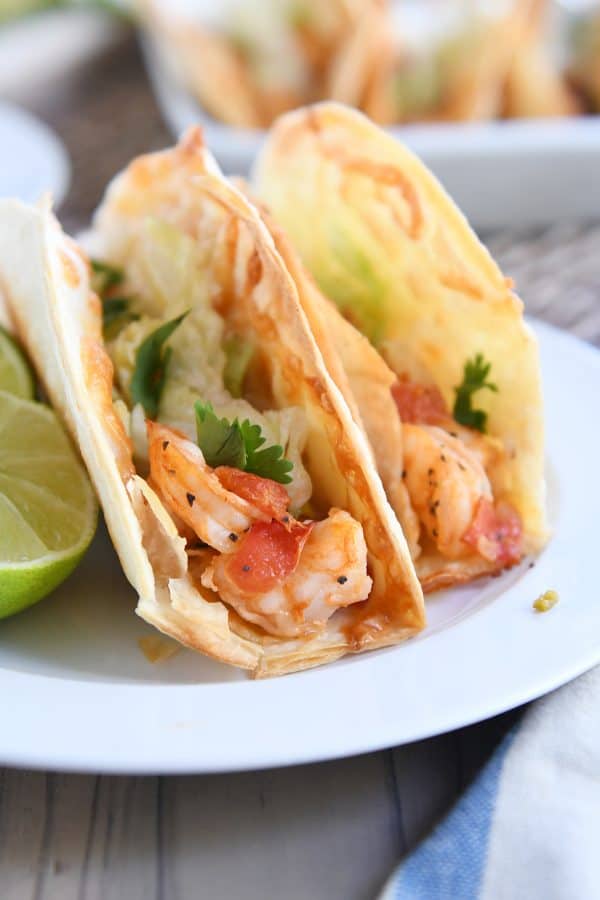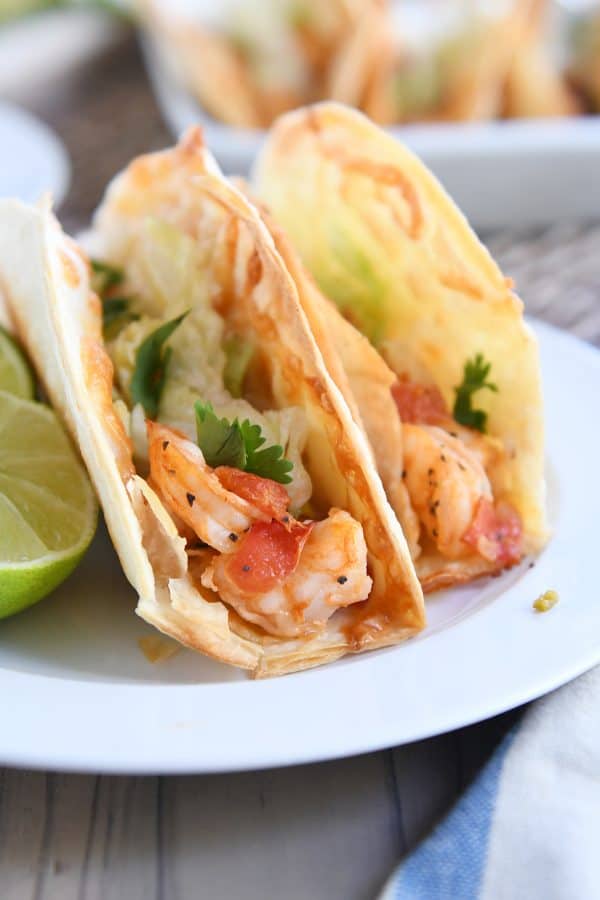 Unsolicited Testimonials
In case you're like "Mel, you always get a little dramatic about food," I can promise you I'm not the only one raving about these tacos.
Brian and my 14-year old have already requested them for birthday dinners (neither of their birthdays are coming up any time soon, but they want me to still make note of it).
And the last time I made them, a good friend stopped by super fast to drop something off. As she was getting back in her car, I shoved a crispy taco in her hand with the order: "you don't have a choice; try this now!"
She is used to me doing this sort of thing and wasn't alarmed by my over bearing demand (welcome to being my friend). She later texted me and said it was one of the best things she's ever eaten.
These crispy shrimp tacos are way better than any shrimp taco I've ever had in a restaurant. For a fraction of the cost. And they take hardly any time to put together.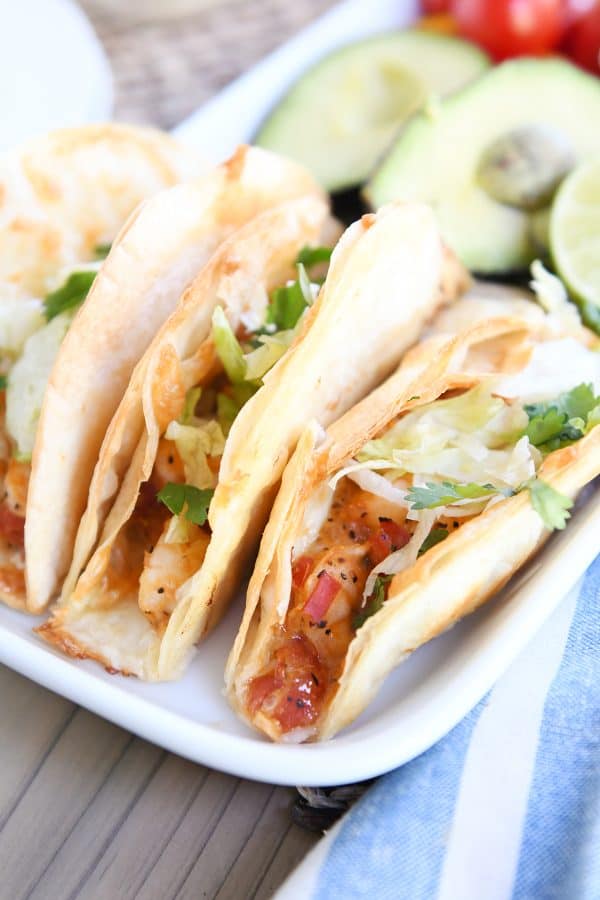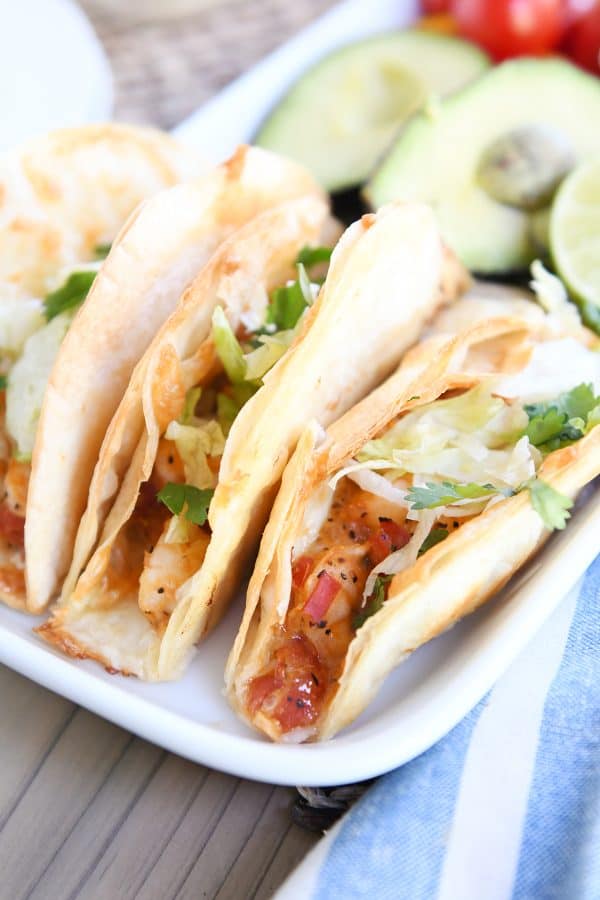 Making Crispy Shrimp Tacos
While these shrimp tacos are ultra-simple to make, they are bound by the laws of flavor building.
These levels are built by a simple mixture of:
tomatoes
onions (don't be a hater :))
jalapeños (don't leave them out! scrape out seeds if you want less heat)
ketchup (just trust me on this)
fresh lime juice
garlic + salt + pepper
Don't panic or freak about the ketchup. You can still be a foodie and embrace ketchup. I promise. It won't ruin your reputation. In fact, anyone tasting these tacos will never even know ketchup exists in the ingredient lineup.
The ketchup helps thicken this mixture and adds a concentrated punch of flavor.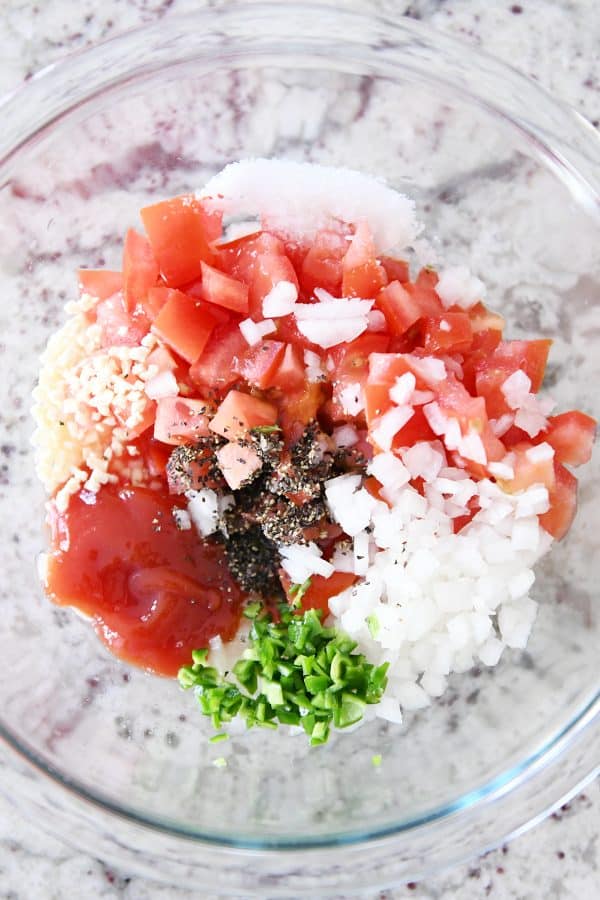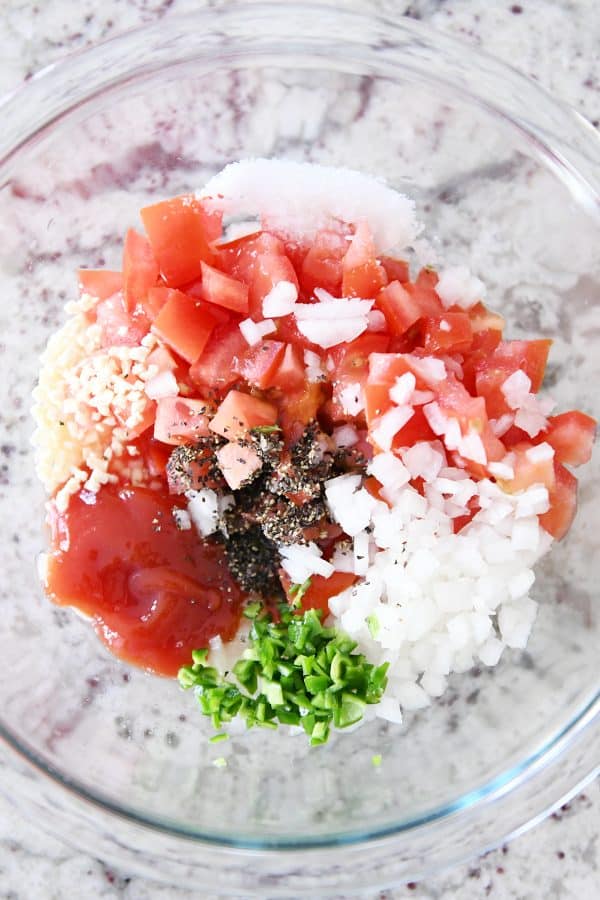 This special mixture cooks in a skillet until thick and syrupy. The tomatoes will break down a bit and the onions will soften.
The shrimp go in for a quick 2-minute cooking sesh to turn pink and that's about it (they'll cook a bit more in the oven).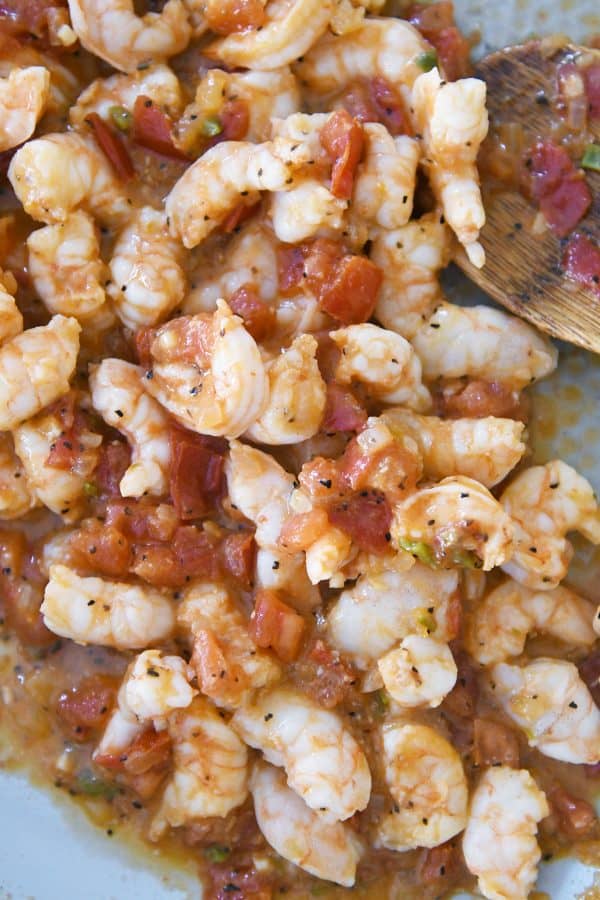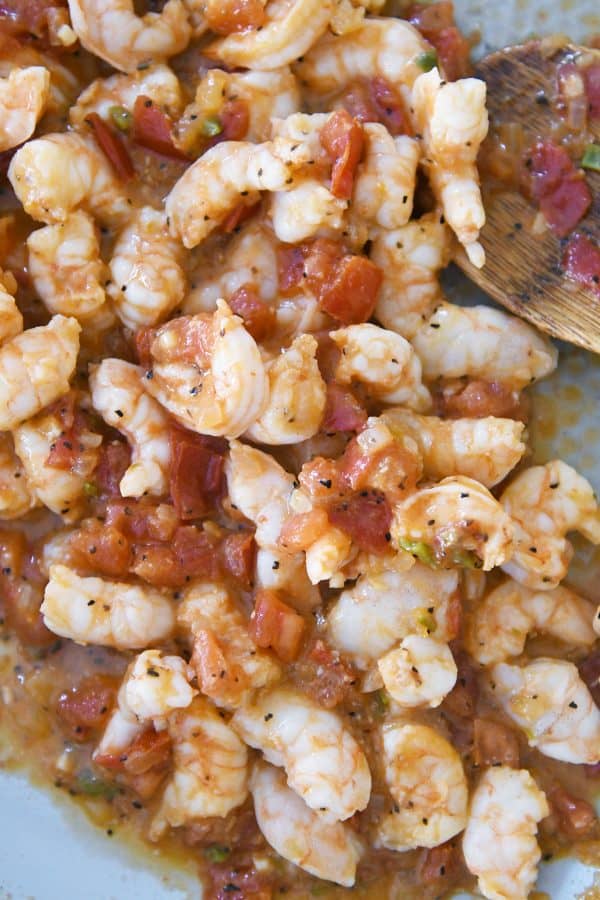 The Key to Crispy Shrimp Tacos
The key to crispy, crunchy tacos is twofold.
1) brush a couple tablespoons of oil on the sheet pan (they won't get as crispy without the oil; trust me, I tried)
2) preheat the oven to 450 degrees F (do it!)
The tortillas are arranged on the oiled baking sheet, sprinkled with a bit of Monterey Jack cheese, and then graced with a strip of that tasty shrimp/tomato mixture.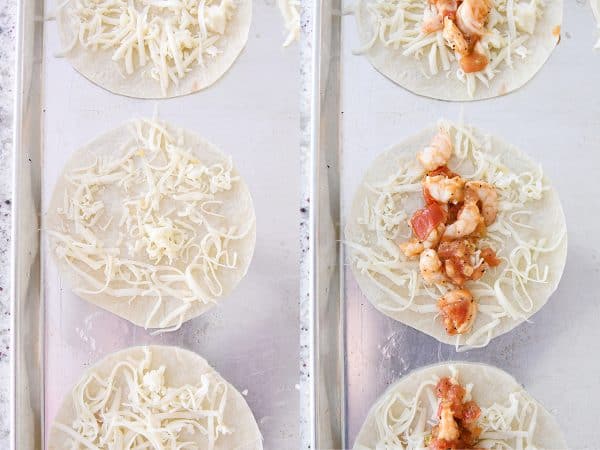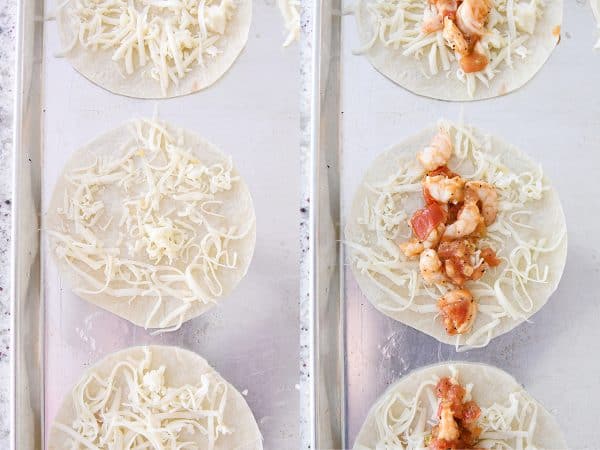 Bake those babies until the cheese is bubbly and the edges are golden.
Flour vs corn tortillas
I've made these crispy shrimp tacos with both corn and flour tortillas.
Both work great and are delicious! But, the flour tortillas do get a little crispier than the corn tortillas (and don't have the same tendency to break when folding in half).
The recipe calls for 6-inch tortillas – a standard size for corn tortillas. When using flour tortillas, I cut 8-inch tortillas into 6-inch rounds. It's probably all in my head, but I think these tacos taste better as 6-inchers.
They'd probably be super tasty (and obviously really cute) made street taco size as well.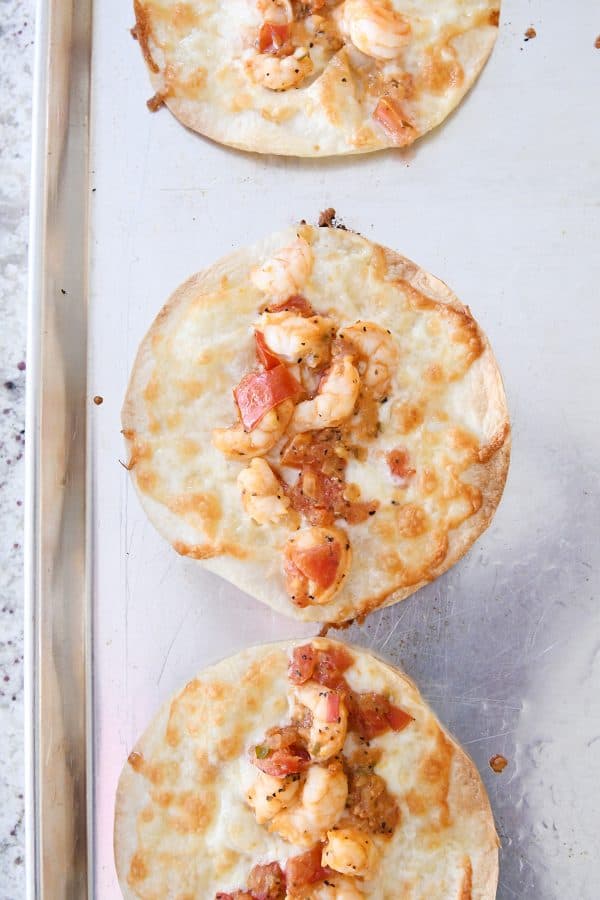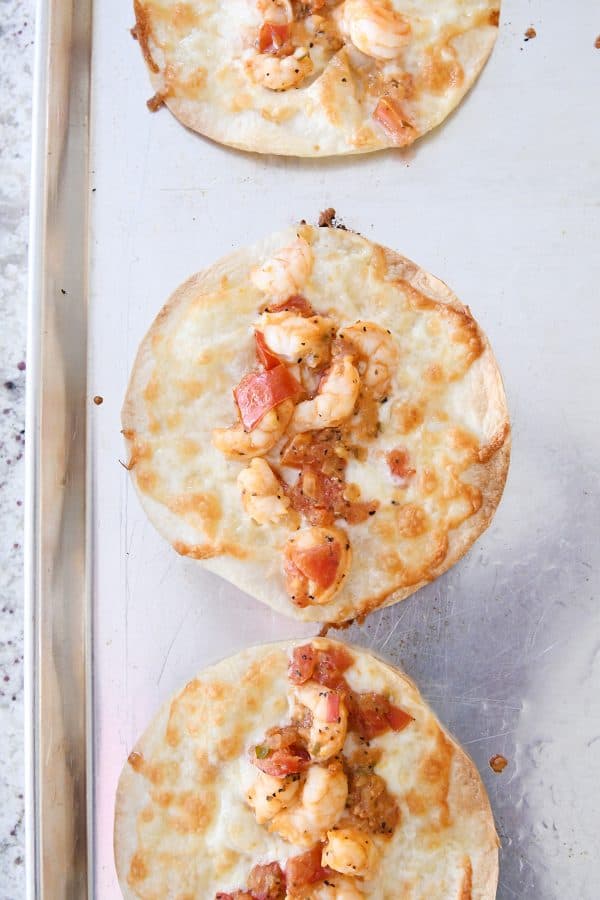 Once the tacos are baked, while still warm, carefully fold in half and garnish with whatever your heart desires.
We are kind of partial to shredded lettuce, avocados, lime wedges, cilantro, and salsa.
The tacos aren't heavily loaded with shrimp. It's a very subtle balance of crispy shell, bubbly cheese, bits of shrimp and tomatoes. You could easily make less tacos and load them up a bit more. 
But I like the delicate crispy taco situation just as they are. They are one of the best things I've ever eaten in my life, and I promise I'm not making that up.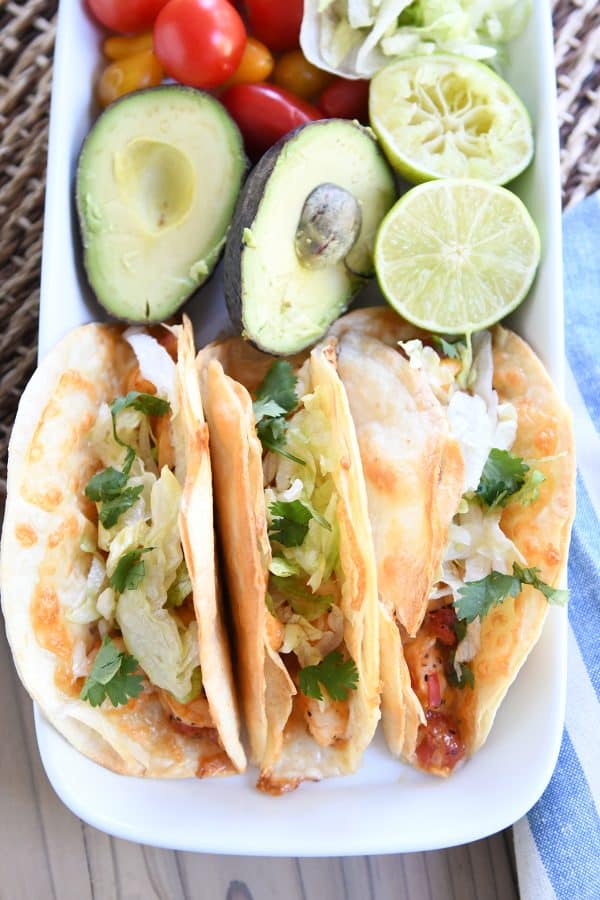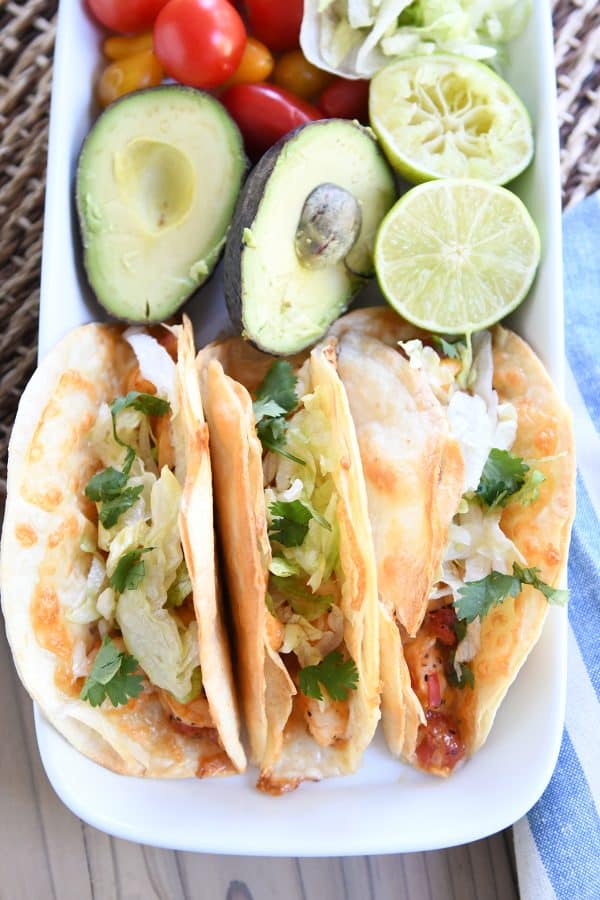 Alternatives to shrimp?
I'll head this question off before it gets asked. 🙂 If you are allergic to shrimp or just hate it (sob), you could definitely try subbing in something else for these tacos.
Maybe chicken? Salmon? Tilapia?
I've only ever made them with shrimp because I love shrimp more than life. But I'm excited to hear of any other variations that end up being a knockout!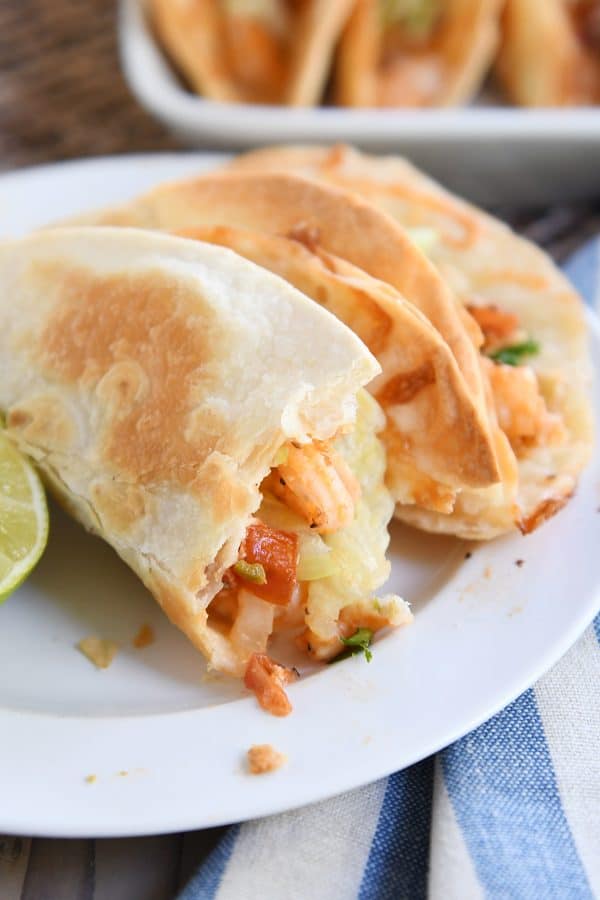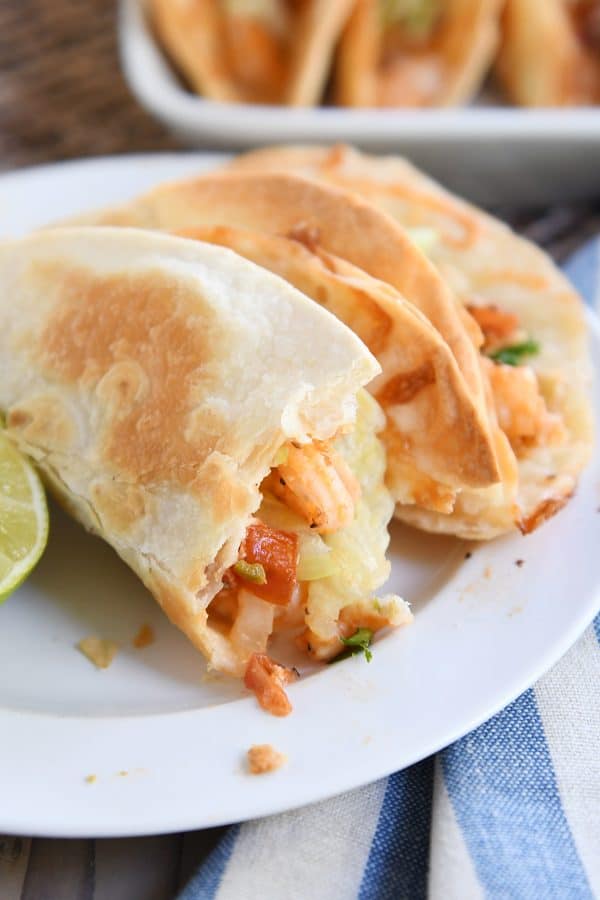 One Year Ago: Blueberry Muffin Cookies 
Two Years Ago: Instant Pot Mexican Pork Slow Cooker Directions Included 
Three Years Ago: Crispy Southwest Chicken Wraps 
Four Years Ago: Grilled Lemon Chicken Wraps with Spicy Garlic Sauce
Five Years Ago: Amazing and Simple Greek Feta Dip
Six Years Ago: Chicken Curry in a Hurry 
Seven Years Ago: Double Cruncher Cookies with Fudge Filling 
Eight Years Ago: No-Bake Peanut Butter Chocolate Bars
Yield: 10 tacos
Prep Time: 20 minutes
Cook Time: 15 minutes
Total Time: 35 minutes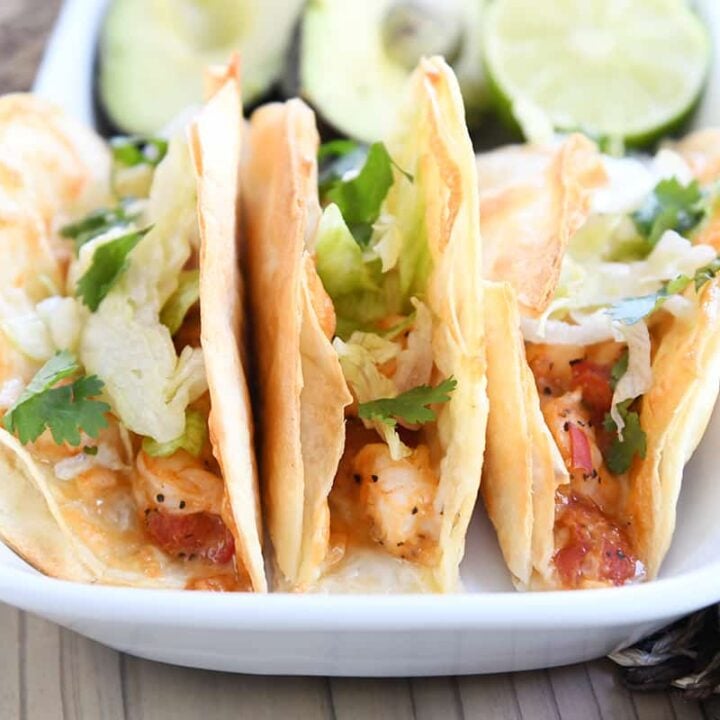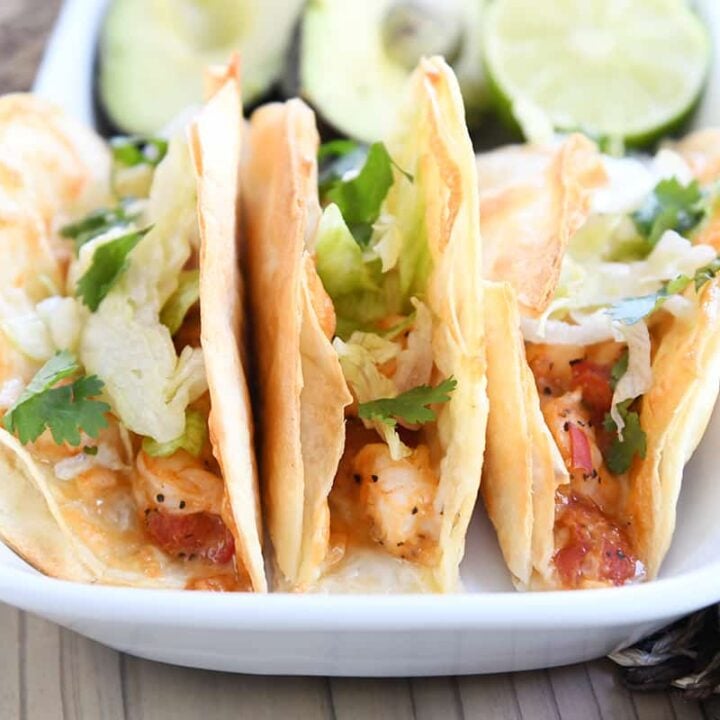 Ingredients
Shrimp Mixture:
2 medium tomatoes, diced (about 1 1/2 cups)
1 small yellow, white or red onion, finely chopped (about 1/2 cup)
1 medium jalapeño pepper, seeded and finely chopped
2 tablespoons ketchup or BBQ sauce
1 tablespoon fresh lime juice
2 medium garlic cloves, minced or pressed through a garlic press
1 teaspoon salt (I use coarse, kosher salt)
Pinch black pepper
1 teaspoon olive oil
1 pound large shrimp (26 to 30 per pound), peeled, deveined and tails removed
Tortillas + Cheese:
2 tablespoons vegetable, canola or avocado oil
10 6-inch corn or flour tortillas (see note)
2 cups grated Monterey Jack cheese
Toppings:
Shredded iceberg lettuce
Diced avocado
Lime wedges
Chopped fresh cilantro
Salsa or hot sauce
Instructions
Adjust oven rack to lower third of oven and preheat oven to 450 degrees F.
In a small bowl, stir together the tomatoes, onion, jalapeño, ketchup (or BBQ sauce), lime juice, garlic, salt and pepper.
Cut shrimp into 1/2-inch pieces.
In a 12-inch skillet, heat the olive oil over medium heat until rippling. Add the tomato mixture and cook until the liquid is reduced and the tomatoes start to break down and onion is softened, 5-6 minutes.
Drain any extra liquid from the shrimp (discard the liquid); stir the shrimp into the skillet and cook until the shrimp just turn pink, 2-3 minutes. Remove the skillet from the heat. Season with additional salt and pepper, if needed.
Brush two rimmed half sheet pans with the 2 tablespoons oil.
Place tortillas in a single layer on the oiled baking sheets.
Divide the cheese evenly among the tortillas. Top with the shrimp/tomato mixture, arranging it mostly down the center of each tortilla.
Bake the tacos, one sheet at a time (see note for convection bake), until the edges of the tortilla are golden and crispy, 7-10 minutes.
Use a flat spatula to remove the tacos from the sheet pan. Gently fold tacos in half. Garnish with additional toppings as desired.
Notes
Tortillas: I've made these with both corn and flour tortillas. The flour tortillas get slightly crispier than the corn tortillas, although both are delicious in this recipe. (The corn tortillas tend to break a little bit more when folding.) It's hard to find flour tortillas in 6-inch size; I usually cut 8-inch flour tortillas into smaller circles. You could just make bigger tacos (8-inch) or use street taco size flour tortillas for smaller tacos.
Convection Bake: If you have convection bake option on your oven, you could bake both sheet pans of tacos at the same time. Preheat the oven to 425 convection bake. Place oven racks in bottom half of the oven; watch the tacos closely so they don't burn.
Recommended Products
As an Amazon Associate and member of other affiliate programs, I earn from qualifying purchases.

Recipe Source: adapted from Cook's Country Feb/March 2018

[ad_2]