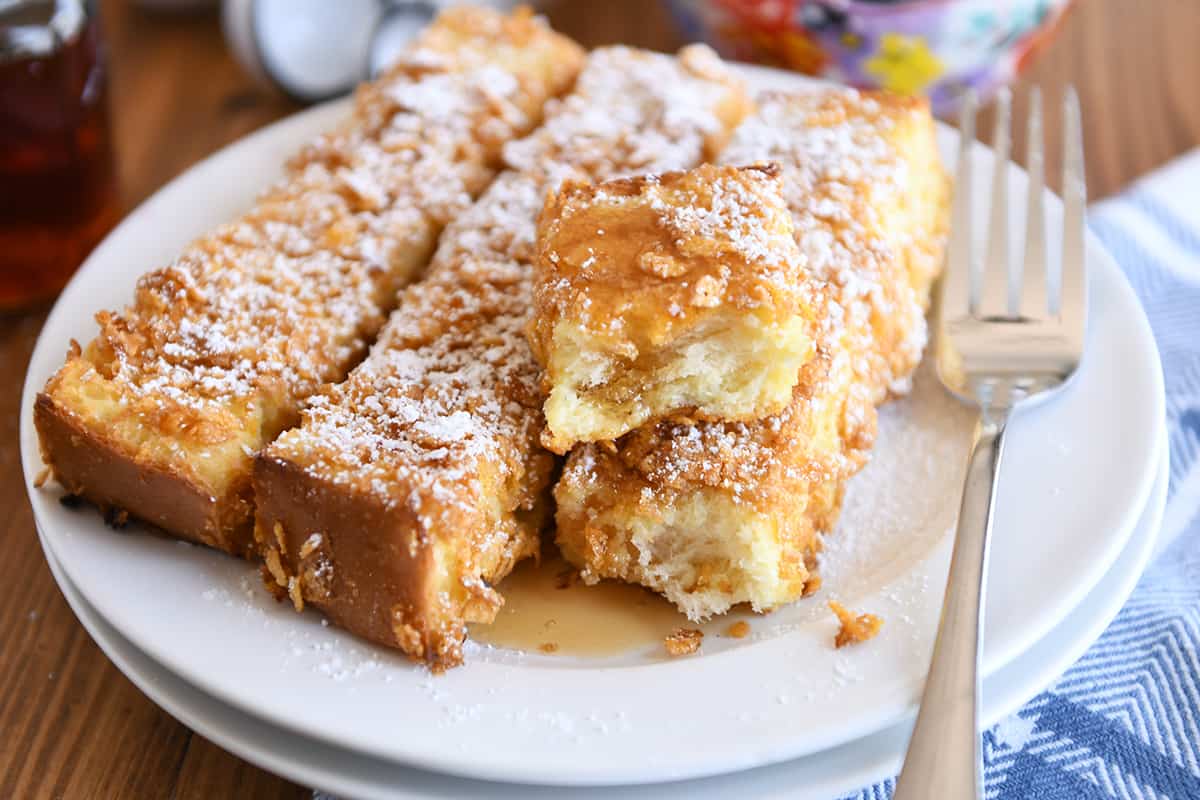 These crunchy baked French toast sticks take French toast to a whole new (delicious) level! Easy to make, they're sure to become a favorite breakfast! Crispy on the outside, soft on the inside!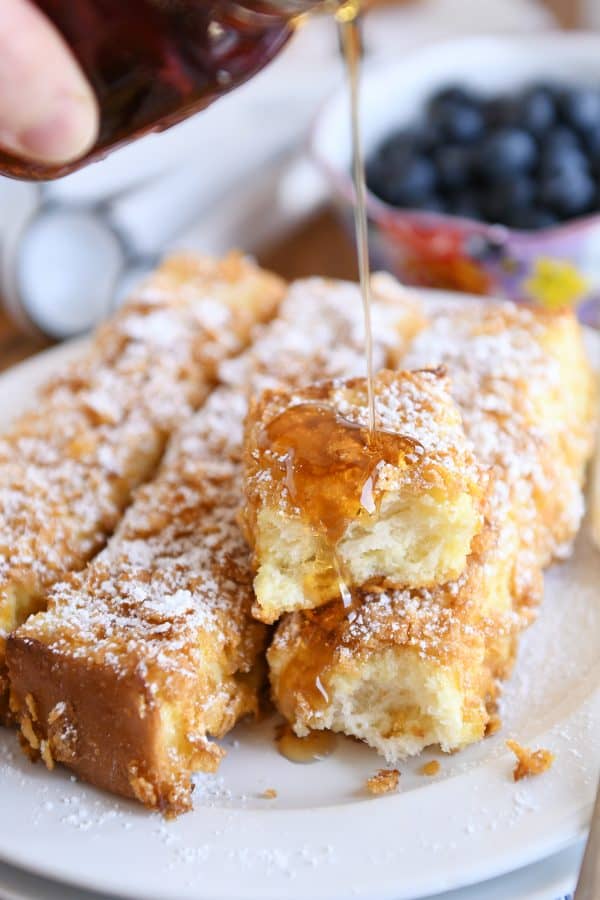 We're getting creative with our time at home and in the kitchen right now.
Even though technically on paper we should have all the time in the world to whip up whatever elaborate creation we want (pies! breads! cakes!), some days, the mental energy that would require (and the lack of some more extraordinary ingredients) has us running straight for the super easy recipes.
The ones we can make in just a few minutes…and that can be eaten right away. These easy drop biscuits and granola bites are a few favorites right now.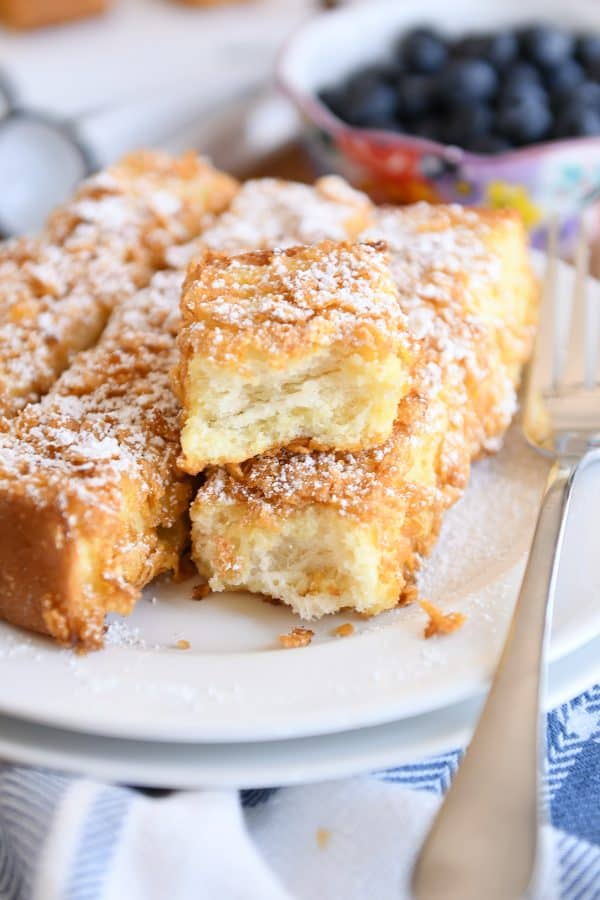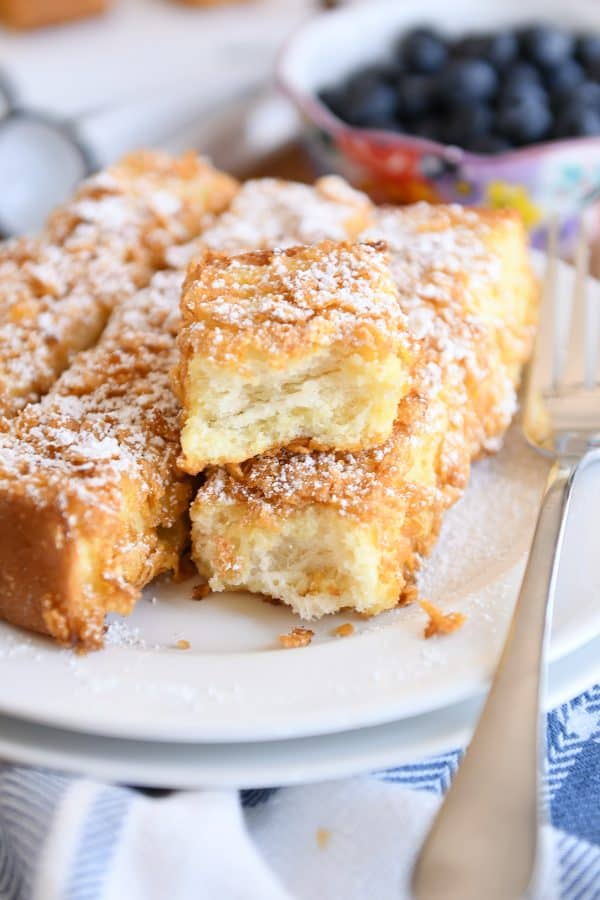 Easy Peasy Recipe
And now I'm adding these easy crunchy baked French toast sticks to the list.
My kids go crazy for these things. We eat them for breakfast, for lunch, for dinner, and any time in between. And…they are easy enough for my kids to make.
There is just something about the lightly sweet crunchy coating and soft slices of bread that make them irresistible. Also, my kids would like me to mention that they are waaaaay better than just normal French toast.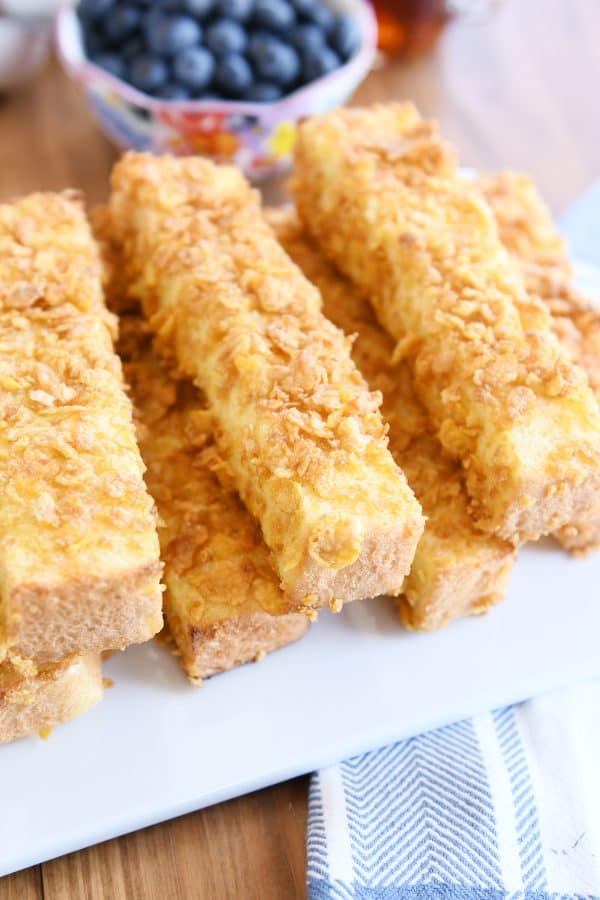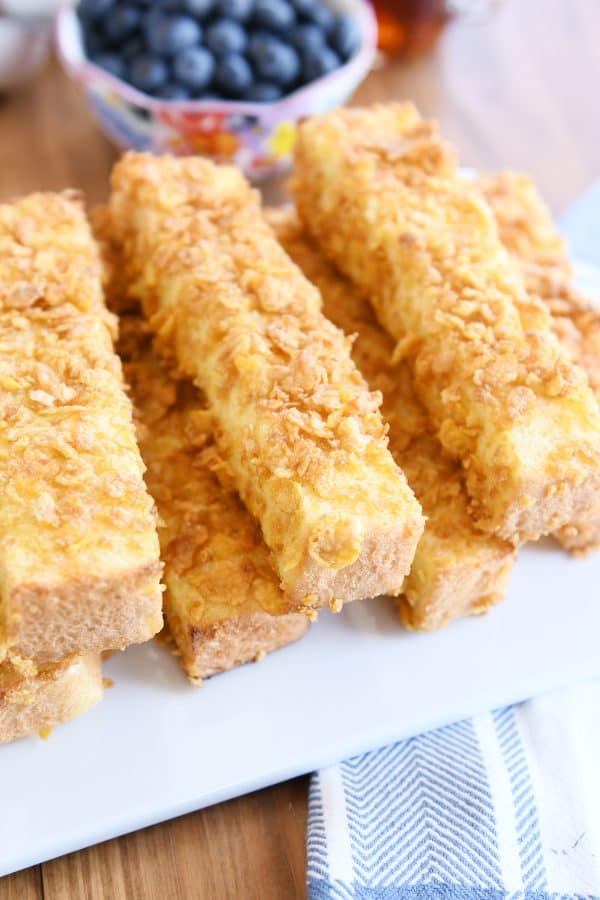 Sure, you could make the whole slice of bread into a crunchy French toast wonder. But it's a heck of a lot more fun to make French toast sticks. 
Is that the stay-at-home in us talking? Maybe. But I think even when we are able to talk to other real, live humans face-to-face again, we're still going to be making these as little sticks.
They're cuter. AND they make for better portions (especially if you're serving younger kids who may not eat a whole slice of French toast).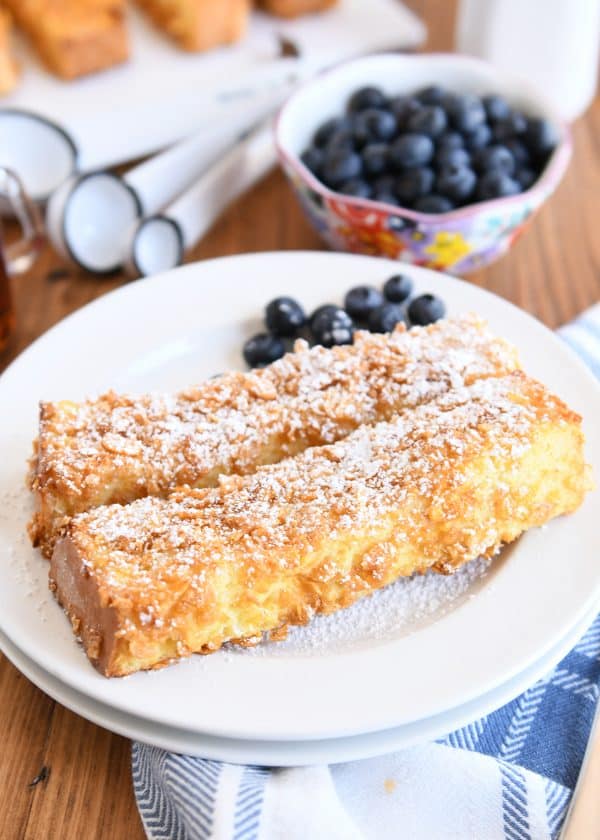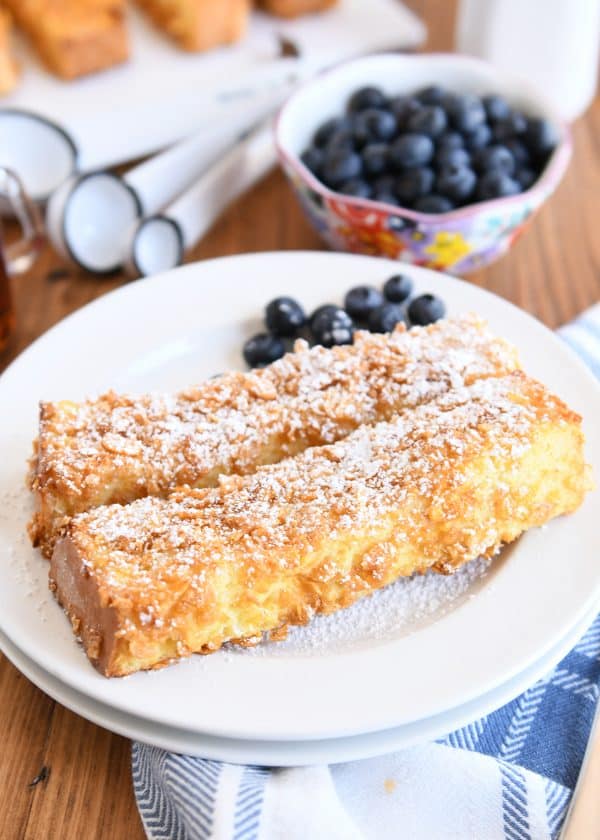 Start with good bread
The bread is important here.
Flimsy, thin, fall-apart bread won't work. You'll be cursing my name as the bread disintegrates during its dipping session.
You want a soft but sturdy loaf. White or whole wheat, it doesn't matter.
Storebought: Texas Toast or another similar thick-sliced loaf
Homemade: this white sandwich bread or homemade French bread would work great (in the pictures below I'm using the white sandwich bread recipe)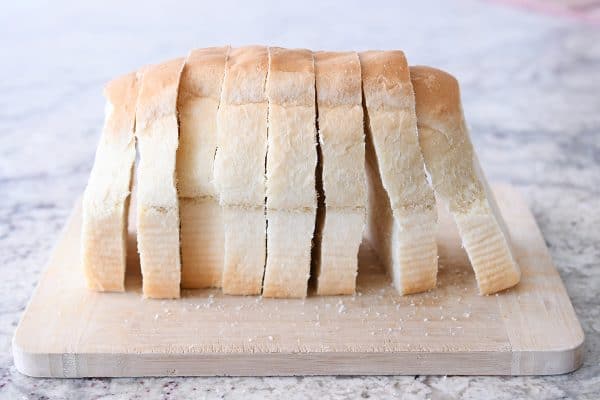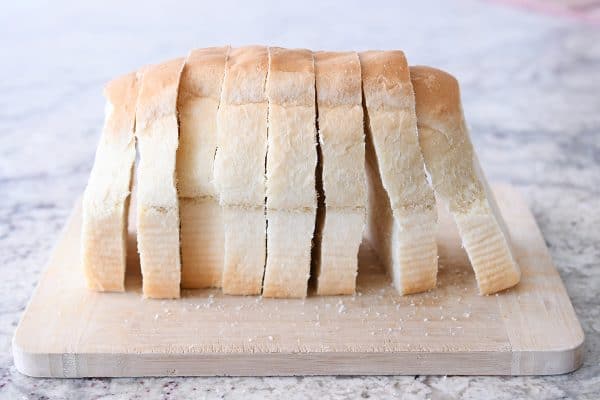 The bread should be sliced about 1-inch thick (more or less). And you need 4-5 slices for this recipe. It can easily be doubled or tripled. 
Cut the slices of bread into thirds. If your bread is more wonky-shaped and slicing it just in half or into fourths works better, that's ok, too!
You just want to end up with some rectangles of bread for the French toast sticks.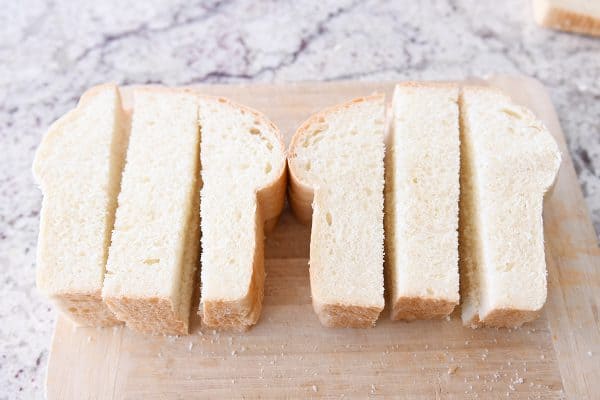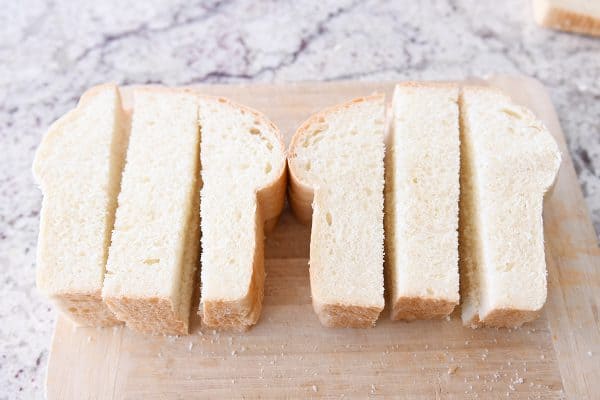 Dip each piece of bread into the egg mixture. Don't let it soak too long.
It should be a fairly quick dippy-do into the eggs and milk.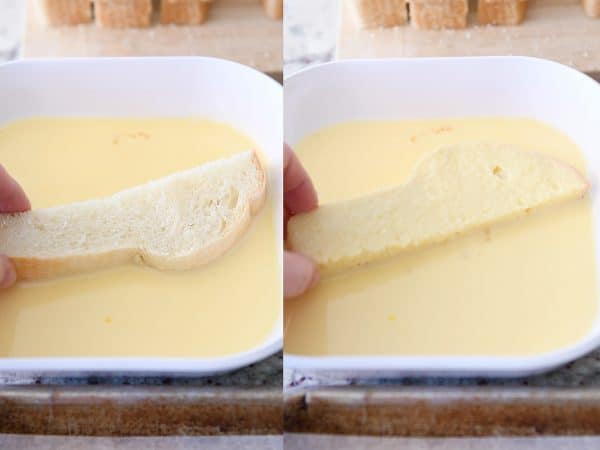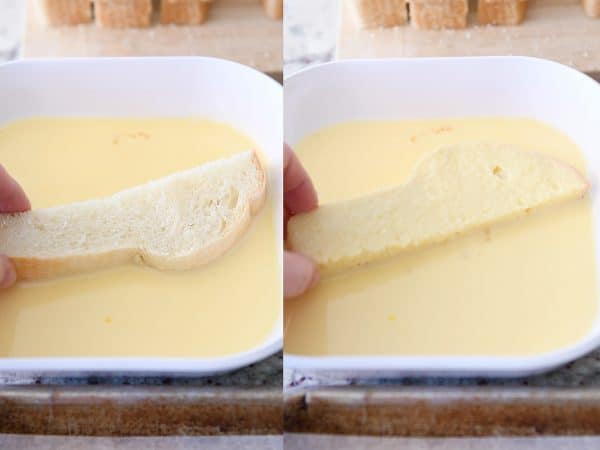 Then press the bread into the cornflake mixture:
crushed cornflakes
touch of brown sugar
cinnamon if you dare
melted butter
I like to coarsely crush the cornflakes so they still have some texture for a good amount of buttery, sweet crunch.
Turn the bread to coat all the sides pretty evenly with the cornflake mixture. If the cornflakes aren't sticking very well, sprinkle the cornflake coating on the bread with your fingers and gently press into the bread.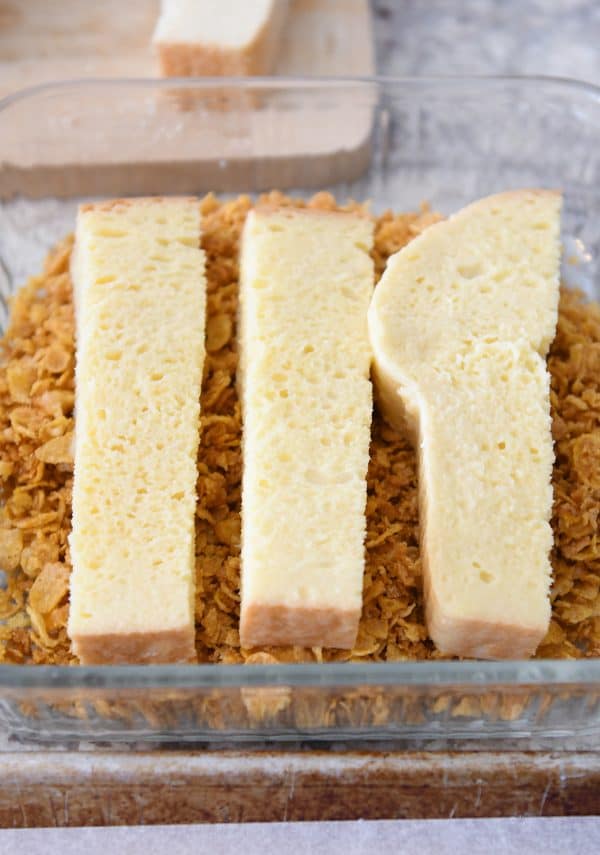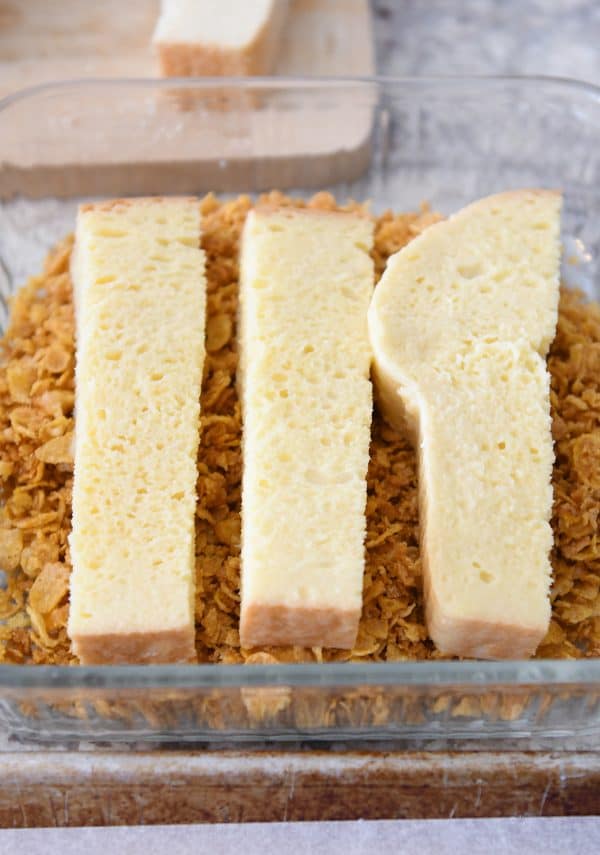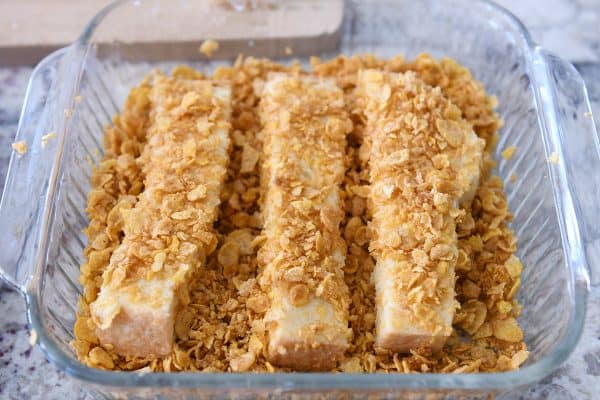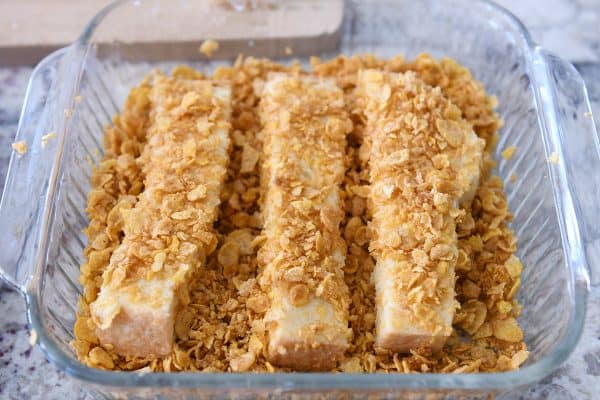 Bake the crunchy French toast sticks until they are golden and no longer soggy in the middle!
Unless you happen to like soggy middles of bread. At which point, I may need to reexamine our friendship. 🙂
In all seriousness, though, the bread will still be soft in the middle after baking, but unless you let it soak for an irresponsibly long amount of time, it shouldn't be super wet.
The French toast sticks will puff every so slightly while baking to let you know the egg mixture cooked all the way through.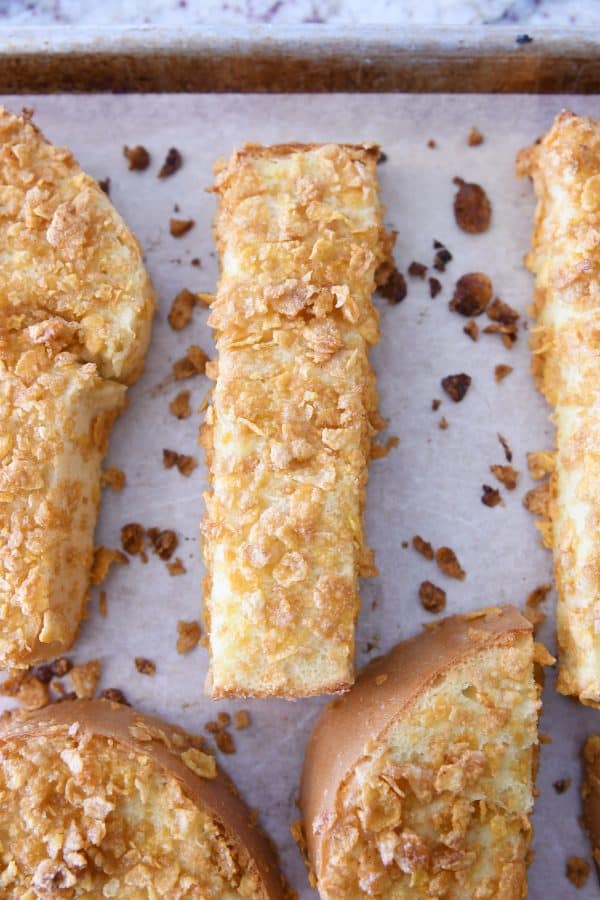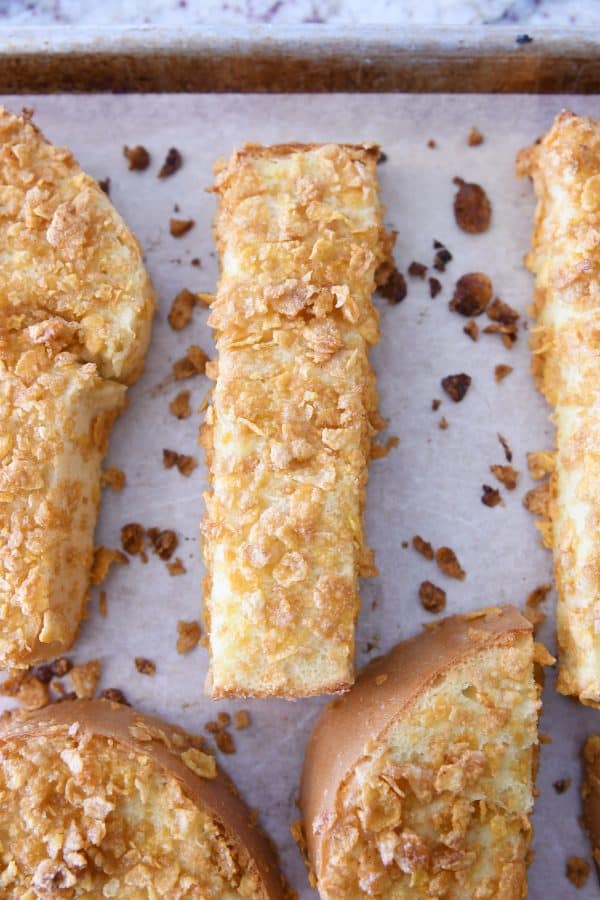 These adorable and delicious crunchy baked French toast sticks are fantastic with a light dusting of powdered sugar.
Or a drizzle of syrup.
Or fresh fruit.
Jam, maybe? Nutella, definitely.
I mean, the options are wide open!
If you're looking for an easy, totally doable, quick baking project, French toast sticks might be the recipe you never knew you needed.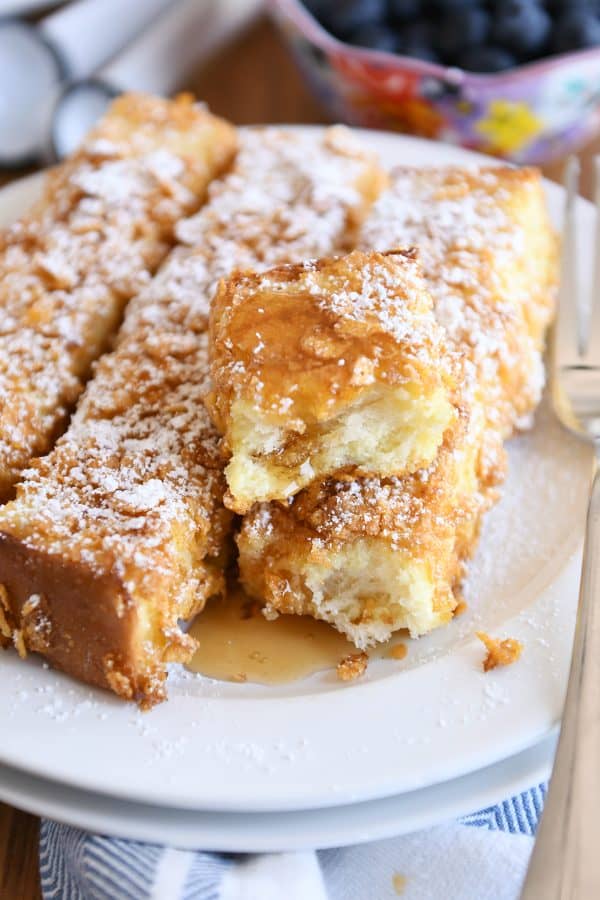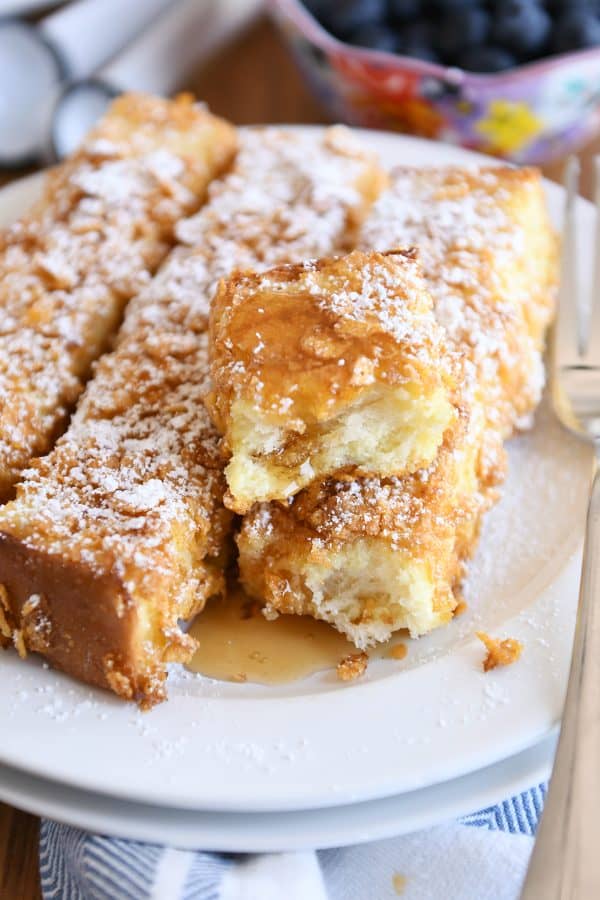 One Year Ago: One-Bowl Chocolate Chip Muffins Whole Grain Option! 
Two Years Ago: Thai Mango Chicken Red Curry with Coconut Rice Quick and Easy
Three Years Ago: Instant Pot Indian Vegetable Rice
Four Years Ago: Pressure Cooker or Stovetop Chicken Coconut Curry
Five Years Ago: Sweet Molasses Bread Restaurant Knock-off
Six Years Ago: Homemade Marshmallow Easter Eggs 
Seven Years Ago: Italian Lasagna Rolls
Eight Years Ago: Chocolate Cupcakes Perfected
Yield: 12-15 French toast sticks
Prep Time: 20 minutes
Cook Time: 15 minutes
Total Time: 35 minutes
Ingredients
Crunchy Coating:
3 cups cornflakes
2 tablespoons light brown sugar
1/4 teaspoon ground cinnamon (optional)
2 tablespoon butter, melted
Egg Mixture:
4 large eggs
1/3 cup milk or half and half
1/4 teaspoon vanilla extract
French Toast:
4-5 thick slices of bread (see note)
Powdered sugar, for dusting
Syrup or fresh fruit, for serving
Instructions
Preheat the oven to 400 degrees F. Line a half sheet pan with parchment paper and set aside.
For the crunchy coating, place the cornflakes in a gallon size ziploc bag, seal, and lightly crush with your hands (or a rolling pin) until the cornflakes are in coarse pieces. Add the brown sugar and cinnamon to the bag and shake until combined. Add the melted butter and mash/mix until evenly combined. Pour the cornflake mixture into a shallow dish and set aside.
For the egg mixture, in a shallow dish, whisk together the eggs, milk (or half and half) and vanilla until well combined.
For the bread, cut each slice of bread into thirds. Dip each piece of bread into the egg mixture giving it a quick soak on both sides (don't overly saturate the bread or it will fall apart).
Immediately press the dipped bread into the cornflake mixture, turning to coat all sides and gently pressing the cornflakes into the bread pieces. Place French toast sticks on the prepared baking sheet.
Bake for 15-18 minutes until the cornflakes are golden and the French toast is baked through (if your oven bakes hot, watch closely so the buttery cornflake coating doesn't burn).
Serve warm with a dusting of powdered sugar, syrup, fresh fruit, or however you like to eat your French toast!
Notes
Bread: the bread you use is very adaptable. I like to use thick-sliced bread. Texas toast or another thick-sliced bread would be a good storeought option. In the pictures, I made this white sandwich bread and cut it into about 1-inch thick slices. This homemade French bread would be a great option as well.
Cornflakes: don't crush the cornflakes to super fine crumbs or they can get soggy.
Amounts: depending on how thick your bread slices are, how long you let the bread soak in the egg mixture, and/or how much topping you pile on, you may have extra egg mixture or cornflake topping OR you may run out a little early. Don't stress. If you run out, whisk another egg and a little milk together and crush a few more cornflakes. If you have extra, cut a few more slices of bread!
Recommended Products
As an Amazon Associate and member of other affiliate programs, I earn from qualifying purchases.
Recipe Source: from Mel's Kitchen Cafe